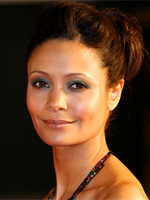 Of all the bizarre calls that have been made in the process of creating "W," the one that possibly threw me the most was the casting of Thandie Newton as Condoleezza Rice.
I've admittedly always been lukewarm on Newton as actress, but nonetheless, nothing about her onscreen or off-screen personae suggested that she had it in her to channel the world's most powerful woman.
So it's refreshing to read, in this lengthy Sunday Times interview with Newton, that she felt pretty much the same way:
"Oliver woke me up," she says. Stone had an "absolute belief that I could play this character who was absolutely nothing like me. She didn't look like me; she's a couple of decades older than me. And I'm English, for goodness' sake".
In her favour, Newton appears to have a healthily objective stance on the character she's playing (more so, I suspect, than her director):
Then she began working on her mannerisms, the quirks and ticks that an impressionist might exaggerate to tell you as much about a person as the "inner truth". She won't tell me what they are. "Look, I do have a kind of reverence for who I am playing. This is a human being, and whatever you think, as an example of discipline, she's unbelievable … (But) seeing her in more undone situations, there was this difference in her. You can see her posture change at certain times. It's almost imperceptible, but it's there. I got a sense of the human being behind the construct. And I did feel compassion for her."
She's clearly an open and articulate interviewee — read the rest here. (Note to the interviewer, however: I know it's customary to flatter your subject, but calling Newton's turn in "Crash" the "definitive performance" of that film is a blatant lie. And I don't even like "Crash.")