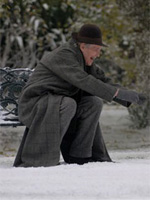 With the acting races getting more crowded by the day, it seems new contenders will need to make quite some impact to stay afloat in awards season. Nonetheless, David Poland and Tom O'Neil are beating their respective drums for a couple of veteran actors in decidedly low-key projects that have just bowed at Toronto.
David Poland is excited about "Lovely, Still," a small-scale holiday pic charting the December-to-December romance between Ellen Burstyn and Martin Landau. I thought the film sounded fairly ghastly when I first heard about it, but Poland is won over, citing "home run performances" from the leads:
All of those "Boynton Beach Club" movies that get distribution… this is going to be the king of them. Maybe it's just $10 million in theatrical, but given the Academy composition and the very real love of these two actors, don't be shocked to hear award buzz around this one all season.
Cinema Blend has also come over all warm and fuzzy on the film, and describes the performances as "dazzling." The stars are obviously Academy stalwarts — and I'm always happy to see recognition for Burstyn, one of America's greatest living actors — but I need more convincing.
Meanwhile, over at Gold Derby, O'Neil is hoping the Academy might finally give in to poor Peter O'Toole, the man who now holds the record for most losses (eight) without winning. Two years ago, everything seemed set for O'Toole to finally collect for "Venus" — and he might well have, had the film not been so feeble.
Now O'Toole returns as an eccentric bereaved father in sentimental period pic "Dean Spanley." O'Neil admits that the film itself is, again, not Oscar-calibre, but is sufficiently impressed by O'Toole's work to suggest he should make a run for Best Supporting Actor, challenging presumed frontrunner Heath Ledger:
O'Toole's role is large enough to go lead, but he'd never get nominated there. Supporting is O'Toole's only hope here and, admittedly, it's a bit of a long shot. Not because O'Toole isn't superb. Of course, he is. He's Peter O'Toole, for cryin' out loud, and he's majestic on screen again and he even has a crying scene, a good one at the end.

As things stand now, I don't think the Joker has cause to frown (or resort to his chicanery in defense), but the whole set-up of this Oscar race certainly does make you wonder: Hmmm, how might this derby contest change if, say, the eventual distributor of "Dean Spanley" hired more samurai Oscar consultants and the movie managed to dodge further nasty reviews (granted, a big "if") and if this time O'Toole actually agreed to hang out in L.A. to campaign, then maybe . . . maybe . . .?
I'm not one of those people who thinks that the Best Supporting Actor race is a done deal. I can envision several scenarios in which Ledger loses. Moreover, I'm sure the Academy would love to reward O'Toole — God knows he deserves one — if the right vehicle came along. But I'm not sure this is it.
As signified twelve years ago when Juliette Binoche stunningly (and deservedly) upset Lauren Bacall — and emphasised this year by the equally well-judged snub of Ruby Dee — the Academy is no longer so willing to reward veterans based simply on past glories.