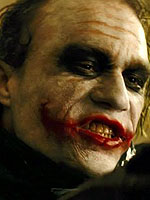 In the middle of Toronto's tiny buzz wave, Nathaniel Rogers has come back with a new "Naked Gold Man" Oscar column at The Film Experience.
I particularly love this aside when charting the acting races:
Only 19 actors and actress need apply for the 20 spots.  Heath Ledger's Joker performance in The Dark Knight is still monumentally creepy to think about or be reminded of, isn't it? Eight weeks of ubiquity, often a great inoculation for hysterically praised work, haven't managed to dilute its feverish pull. That's an impressive feat and a performance that once seemed like a worthy "likely contender" is now a "lock". But we still don't know what this means for the larger Oscar picture. And it's all about the larger picture. "Supporting" is where Ledger's buzz first happened. But many voices are starting to shout for "Lead" status. The Joker's ghostly presence and penchant for chaos will affect future candidates and the Oscar race… but which one.
Read the rest here.