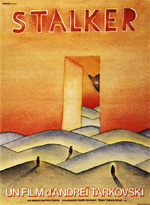 To commemorate their 75th anniversary, the British Film Institute has launched a nice little project called "Visions for the Future." They've selected 75 figures from the world of film — actors, filmmakers, critics and other industry pros — and invited them to name one film they would choose to share with future generations, as well as asking for their thoughts on the future of the medium.
The results — mainly in the form of video interviews — are really rather insightful. Obvious (albeit worthy) choices abound, from "The Wizard of Oz" to "The Third Man" to "Tokyo Story."
But there are a number of interesting left turns. As if there weren't enough reasons to like her already, Cate Blanchett proves her taste and intelligence by picking Andrei Tarkovsky's mind-blowing "Stalker," though she admits it took her three days to get through it. (Her choice also gives me a nice excuse to post one of the most beautiful posters of all time as an illustration.)
My favourite choice, however, is that of the brilliant playwright and screenwriter Patrick Marber — Powell and Pressburger's "The Red Shoes," a twisted, romantic and visually breathtaking fairytale that he economically describes as being "about wanting things too much and not getting them."
This got me thinking about what film I would choose to share, and under what criteria — will my own favourites have much to say to people several generations down the line? Should a time-capsule choice be something from the present or the past? Something that shows the world as it is, or as it should be?
The film that keeps coming to mind for me is "The Spirit of the Beehive" — a deceptively simple piece that speaks of childhood, of history and of cinema itself. I would like my great-grandchildren to see it, even if they don't understand it. Selfish, I know — but that's the joy of such lists.
Check out all the BFI choices here. And share your own thoughts and selections below.