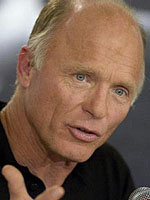 Walking into to interview with any actor/director can be a tad intimidating, even after 20 years of doing it.  They have a tendency to be…difficult.  But 30 minutes into my interview with Ed Harris, he pays me a compliment that could keep wind in my sails for the duration of the fest: "Thank you for your integrity, intelligence and dedication to your job.  This has been a pleasure."  He smiled as we shook hands and he walked me to the door
Harris has been an actor I have admired since first seeing him as squeaky clean John Glenn in "The Right Stuff" back in 1983, which he followed with a chilling turn as a mercenary in "Under Fire," his bright blue eyes windows into hell's furnace. His career has moved along an interesting trajectory, shifting between supporting roles and leads with ease, often dominating whatever film he takes on with powerhouse acting.
Oddly enough, he did not receive his first Oscar nomination until 1995 when he gave a sterling performance as Gene Kranz in "Apollo 13," followed by another brilliant turn in "The Truman Show" as a God-like TV producer. He nurtured his dream project, "Pollock," through its funding, before taking up the reins as director and grabbing another Oscar nod in front of the camera. And in 2002 he was nominated for a fourth time for his AIDS-afflicted writer in "The Hours," a critically acclaimed ensemble piece from director Stephen Daldry.
It is doubtful that "Appaloosa" will see any Oscar attention.  Though it is beautifully shot and the art direction is sublime, the film was something of a letdown, despite strong work from Harris and co-stars Viggo Mortensen and Jeremy Irons.
"I gave the book to Viggo here at this festival in 2005," Harris said, "when we were here for 'A History of Violence.' There was no one else I really wanted to do the film with, and I certainly never considered anyone else. I just thought he and I would make a strong partnership on screen. We don't hang out, I mean we're friends, but we don't see much of each other. He agreed to do it, and Viggo's the sort of guy where his word is his bond, so that gave me the start to keep moving on the film. It didn't really occur to me that the film was a western, what struck me was the relationship between these two men in 1882, that's what really grabbed me about the film. That it happened to be a western was incidental."
I asked Harris about his gift for projecting intense danger on screen, genuine menace, which drew a smile from the actor, known for his outbursts on set and in press conferences.
"It's no secret I have let my temper get the best of me sometimes," he smiles, "but I hope that is behind me these days. I am not sure where it comes from, from me obviously, that's a really good question. I have always gone after the truth in my work, and if the truth means bringing a sense of danger to the role that is what I go for; it just sort of happens, I guess.
"The bottom line for me is it has to be truthful.  I mean what's the point if it's not? I tend to have a competitive spirit, something left over from my place as an athlete in my youth, and that quest for truth has often gotten me into some trouble, but I would not want to work any other way."
Harris believes he learned a great deal more on this film about directing, about delegating, than he did on "Pollock."  With his directorial debut, Harris was very hands on, often stretching himself too far, while with "Appaloosa" he allowed the designers to do their job and the sound crew to do theirs. He found himself more willing to give up certain aspects because he developed a trust for them.
"I had immersed myself in 'Pollock' entirely," he said, "so much so that I lost myself in the role and the film. With this one I was much more patient as a director, I had to be because the elements often worked against us. I found myself more relaxed on set, perhaps because I had done the job before and had more confidence in myself."
As for the place of the American western in post-9/11 America, Harris smiled and said he would not get drawn into a political discussion because that was not what he intended with the film. He liked the simplicity of the story, he liked the characters' relationship and how it evolved, and he understood how not all that much has changed since 1882. In the film an American President pardons Bragg (the villain) for murder, which is not so far off what has happened in recent years with criminals and even Presidents being pardoned by the sitting President.
"But," he added with a smile, "I am not making any sort of political statement you understand."
I explained to Harris that I started my career as an actor, studied the method and found out I was dreadful when the critics attacked me mercifully after a few stage performances. I became a stage director, though my real love was always film, and I wanted to write and celebrate the art of the cinema.
"But that's great that you have acted, that you tried, because I'll tell you in this day and age film criticism, criticism of any kind in the arts, is a dying art, and it is an art form if done well. Far too many critics have no idea what they are talking about, no sense of film history, and what is not understood is that we need film criticism," he said.
"I got some tough reviews when I started out, and they stay with you. I mean 30 years later I remember what they said, and if I saw them today I might give them this (the finger)," he said with a grin.
Related Posts