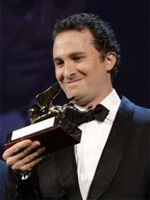 As Kris just reported, Darren Aronosky's "The Wrestler" has won the Golden Lion at the Venice Film Festival. No surprise there — in what was widely deemed a lukewarm festival, Aronofsky's film, which only screened yesterday on the Lido, was one of the few outright critical sensations.
What is surprising is that Mickey Rourke, whose lauded comeback performance is the predominant source of the film's buzz, missed out on the Best Actor prize, which went to Italy's Silvio Orlando for "Giovanna's Father."
Perhaps the jury wanted to spread the love. Perhaps after wins for David Strathairn, Ben Affleck and Brad Pitt in the last three years, they felt American actors had been sufficiently rewarded for a while. Prize or no prize, however, this recognition for the film — to which his performance is so integral — makes it quite clear that Rourke is on the awards trail.
But what of the film itself? In years past, the Golden Lion has been the start of a healthy awards-season run for a couple of films — examples include "Atlantic City," "Vera Drake," and most notably, "Brokeback Mountain."
It's no guarantee of future glory, though. In 1996, Neil Jordan's lavishly mounted biopic "Michael Collins" seemed poised for an awards sweep after it took the Golden Lion and its star, Liam Neeson, nabbed the Best Actor prize. But the film never quite clicked with other awards bodies — and on Oscar nomination morning, all that awaited it was a pair of technical nods.
I sense that "The Wrestler" could appeal to Oscar voters, however. By all accounts, it's a warm, elegiac work with major emotional impact. (Some reviews suggest it skirts sentimentality, which the Academy is never averse to — "Million Dollar Baby" is an obvious precedent in this case.)
It's also clearly a performance-led film, which could play well with the actors' branch. In recent years, we've seen a number of similarly modest films, such as "Capote" or "The Queen," ride into the Best Picture race on the coattails of acclaimed lead turns. If Rourke begins sweeping up precursors (and with those rave notices, it's a possibility), I wouldn't be entirely surprised to see the film follow a similar course.
Oscar pundits are still trying to pinpoint the annual 'little film' that could become the underdog contender amidst the glittery studio pics. Some are pointing to "Slumdog Millionaire." Others think "Happy-Go-Lucky" has a shot.
I think we now have to add "The Wrestler" to the list of possibilities. It's a long shot, of course. But it's off to one hell of a start.