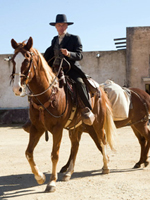 Rough day on the legs yesterday, a lot of walking.  Five films. One of them I will watch on DVD in the luxury of my room tonight, so four that I am running to, but hey, these are films I want to see, which always helps, right?
I scanned the local papers for reaction to Thursday's Gala of "Passchendaele" first thing yesterday.  The reviews seem to be fair in their honesty; no one thinks the film is a masterpiece but no one is tearing it apart either. The real news seems to be the demonstrators outside of Roy Thomson Hall protesting our government's recent announcement of massive funding cuts to the arts.
Dumb, dumb, dumb.  When will they learn that a culture without art ceases to be a culture?
Anyway, I arrived at the first screening and took my seat only to overhear a distressing conversation (a dangerous part of this job) between two American film critics. One said the festival had lost its identity this year because its programmers have not brought in any Oscar contenders, unlike last year when four of the five best picture nominees played here.
I was stunned by his arrogance and ignorance. How could he possibly make that statement? The Oscar nominations…as far as I know…are not announced until January. Perhaps he is forgetting that this festival was created to celebrate the art form.  That films that went on to Oscar attention was just icing on the cake. And who is to say many of the films here may not head in Oscar's direction? And so what…SO WHAT (??!!) if they do not?
Perhaps they have forgotten their own identity as film critics and why they took up the job: to write about great films, big and small, Oscars or not.
(Reviews after the jump.)
"BURN AFTER READING" (***)
Yes I had heard all the mixed reviews coming out of Venice and read some of them as well, but I never let critics decide what I will like and dislike…I see it for myself. Once at a party near Toronto I was introduced as a film critic to the great actor Graham Greene, Oscar nominated for his wonderfully wise Kicking Bird in "Dances with Wolves.  He smiled, shook my hand and replied, "Aren't we all?" Of course we are.
I liked "Burn After Reading." LIKED.  I did not love love it, do not hold it in the same category as "Fargo" (which I still believe to the Coens' best film), "The Big Lebowski" or "No Country for Old Men," which I loved but felt was a tad over praised. Nobody does screwball like the Coens, and when they nail it they are among the best at work.  But they don't quite nail it here.  The screenplay fails them, but their actors are more than up to the challenge and do some terrific work.
Obviously the actors are aware that the characters they are playing are not real, they could not possibly be, which is perhaps why they infuse them with such great energy. I cannot remember the last time I saw Brad Pitt having so much fun playing a total doofus on screen. He was terrific throughout the film, all but stealing it from the great John Malkovich.  Malkovich takes on the part of a disgraced CIA agent, Osborne, who quits the agency to write a corrosive tell-all book while his two-timing wife is cheating on him with a Treasury Agent portrayed by George Clooney.
If you're still with me, Clooney is equally fine as a man who cannot get enough sex and has taken to trolling the Internet for dates, in addition to his affair, which is in addition to being married.
When Osborne's disc of memoir information is found in the gym by a janitor, Pitt and the wonderful Frances McDormand decide to blackmail him for cash to pay for some cosmetic surgery that her medical coverage will not approve. However, they do not count on Osborne being a fire-breathing madman sick and tired of being put down by the society he swore to protect. He lashes out and bodies begin to pile up. Suffice it to say that in addition to being a screwball comedy, this is comedy at its blackest, good people die, fools live and one person gets what she wants…no matter how petty.
Pitt is wonderful, obviously having a blast, cutting loose and energizing. His stupidity is hilarious, matched only by McDormand's insatiable need for these silly surgeries. Sad-eyed Richard Jenkins, enjoying a career rebirth this year, does solid work as the gym manager, smitten by McDormand's character. If the film had a flaw in its casting it would be Tilda Swinton, who seemed curiously out of place in a Coen brothers film, and I could not understand the attraction between her and Clooney…though I guess attraction is beside the point for a sex addict.
The film has been attacked for being a step down from "No Country for Old Men," but come one…they cannot be masterpieces every time out can they? I had fun watching the film, will not likely think about it again until I have to review the DVD.  But it was nonetheless a toroughly entertaining morning.
"APPALOOSA" (**)
Count this as my first major disappointment, one because I love the western genre, two because of my admiration for Ed Harris and Viggo Mortensen, and three because it might have yielded more efforts in the genre if it was an out-and-out success. It's not, and for many reasons, which is sort of sad because it has so many good things going on and is undone by such silly devices.
Harris did a solid job with "Pollock" in 2000, guiding himself to an Oscar nod for Best Actor and directing Marcia Gay Harden to a surprise win for Best Supporting Actress. But don't expect Oscar to shine on this film.
Virgil Cole (Harris) and his partner Everett (Mortensen) are peacemakers, hired by the town of Appaloosa to maintain law and order, largely against the vicious bully Bragg (Jeremy Irons) who has killed the local marshal and his deputies and operates with a reign of terror. Cole is widely known as a hired gun, but not the gunfighter type.  He's a man willing to fight for the right things.  He posts by-laws and then strictly enforces them with violence rather than talk.
He is backed up constantly by Everett, whose very silence provides menace to all of Cole's actions. An uneasy peace descends on the town after their initial confrontation with Bragg, until the stagecoach delivers a pretty woman, Ms. French (Renee Zellweger), at which point Cole is smitten. Everett has an odd feeling about the woman, first entranced himself, then stunned when she suddenly kisses him in the unfinished home she plans to share with Cole.
You can read up on more of the plot's finer points in Kris's review from yesterday.
Let me start by saying that Mortensen is terrific as the quiet Everett Hitch, a gunman who speaks when necessary. He watches with genuine dismay as his friend falls in love, knowing it will mean the end of their partnership, and then stands by while his friend is deeply hurt. Yet he cares enough for his good friend's happiness to find a solution and solve the problem, asking for nothing in return but to be left alone to do so.
Harris is fine as Cole, a hot-tempered man who is used to solving his problems with violence and not afraid of any single thing so long as Everett has his back, as he always does. It is interesting watching the decisions he must make in settling down with Ms. French, particularly after her true colors are exposed and he must ask himself if he is ready for what the future may bring.
The shock for me in the film was Jeremy Irons, an actor I normally do not care for, who is superb as Bragg, bringing to the role the lean and menacing evil he gave to Scar in "The Lion King." This is a dangerous man, a man who will kill for no reason and then smile as he denies it. Never before, not even in "Reversal of Fortune," has the actor been so powerful on screen. I know Kris felt he was wasted, but I thought he was among the film's major strengths.
Zellweger is a major problem, looking out of place and bringing nothing to what could have been a challenging role. Instead she is bothersome and a major source of irritation throughout, even after we discover her…issues. An actress I normally admire, I would say she is woefully miscast.
Harris does a wonderful job capturing the atmosphere of the old west, and I liked the chemistry between him and Mortensen. But predictability gets the better of his narrative sooner or later, and at that point it loses steam, nowhere to go. That brings us a lack of passion, making what should have been a deeply moving ending just…so-so.
What a shame.
"MIRACLE AT ST. ANNA" (***)
Oscars are being predicted for Spike Lee's latest, "Miracle at St. Anna," based on James McBride's best-selling novel about with a black unit of soldiers in Italy during World War II. Now there is much to like in the film, fine direction, strong performances and a plot that twists and turns, never going where we might expect.  But there is just as much to dislike, including one of the most intrusive musical scores I have ever had to endure, and some choices by Lee that, while not surprising, are disappointing.
The film opens with what appears to be the murder of an innocent man in a post office in 1983. Waiting in line for a stamp, the soon-to-be-dead-man steps forward.  We he and the clerk lock eyes, the clerk pulls a German pistol and shoots the man dead. A young reporter is sent to investigate and interviews the killer in jail.  And here is where the story of the miracle at St. Anna is revealed for the first time in nearly 40 years.
Four young black men are caught behind enemy lines in Italy, surrounded by Nazis, befriended by an Italian village where they encounter a little boy, traumatized by events that he has witnessed over the war. Angelo (Matteo Sciabordi) attaches himself to what he perceives to be a "chocolate giant," Train (Omar Benson Miller).  A massive yet gentle specimen who believes deeply in God, Train is superstitious to a fault. The child feels safe with Train and though the others in the group know at some point they will have to separate the two, they see no reason to do so yet.
Stamps (Derek Luke) wants nothing more than to understand why he feels more free in this foreign country than he has ever felt at home in the United States, and though he is fighting for a better America he feels it may not be there when the war is over.
He despises the behavior of Bishop (Michael Early), a fast-talking con man with an eye on a pretty Italian lady. Caring only about himself, he is the voice of reason, knowing that nothing is going to change because of this war simply by the manner in which the black soldiers are treated.  Hector Negron, meanwhile, is Alonso, a Puerto Rican radio operator and frequent peacemaker, from Harlem.
With the Italian town awaiting assistance, the men become close with the people.  They take them for what they are, with no thought as to the color of their skin. But in their midst is a traitor, a man who has sold out other Italians to the Nazis, and will do the same to them. His actions have forever scarred Angleo, who was witness to the massacre at St. Anna when hundreds were slaughtered by the Nazis, including men, women, children, infants and the elderly.
There is a great deal of power in Lee's film, the performances are simply superb beginning with Derek Luke as the conscience of the film. Through him we understand the plight of a proud black man, fighting for what he believes in for a country that holds him down. These are the days before the Civil Rights Movement, when an African American could not eat in certain white establishments (a point made in a disturbing flashback) or sit in certain seats on buses. But he believes winning the war will make it better.
As the gentle giant Train, Miller is superb, fatherly and kind to the boy yet a violent monster when threatened with having the child taken away from him (like Lenny from "Of Mice and Men"). Both Ealy and Alonso do terrific work, though Ealy's arrogance becomes tiresome after a while.
Where Lee falters is in his portrayal of every white American. Nowhere do we see one that is remotely considerate of the blacks during the war or in that period (well, there is one, but it seems to be a character injected grudgingly).  Everyone is painted as a redneck or prejudice in some way.  Perhaps this is to make clearer the fact the Italians do not feel this way, but I think the point could have been made differently.
Even the man who comes to their rescue is a blatant racist, seeing the Buffalo Soldiers as nothing more than his servants to be ordered about and not trusted. It is partly due to his ignorance that they end up behind enemy lines in the first place.
Lee captures the horror of the war with intensity and tension. There is a startling image of Train moving through a stream, weighed down with a statue head he found that plays an important part in the plot of the film, covered in blood, dazed, barely aware of the bullets and bombs around him, moving relentlessly forward to the other side.  It is shocking in its simplistic power. And the massacre at St. Anna is filmed with grim realism, giving us a full idea of the true horror of the situation.
There has been much Oscar talk for the film, which I do not think will come to pass. There are moments of breathtaking power, horror, and heartbreak, just as there were in "Glory," the Civil War epic that dealt with a black fighting unit. If Spike was hoping to surpass Clint Eastwood's war films "Flags of Our Fathers" and "Letters from Iwo Jima," he certainly didn't come close. And maybe he knew that already when he attacked Eastwood back in May. He made a good film, not a great one, but he should be proud of it nonetheless.
Why though, MY GOD, why did he allow Terence Blanchard to write such a dreadful score? Like something from the 1960s when the music overpowered every moment on the screen or telegraphed it to the audience, the score nearly ruined the film for me.
Nearly.