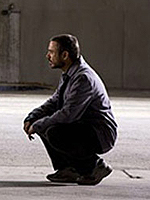 I'm hearing (not altogether surprising) rumblings that Robert Downey Jr.'s role in Joe Wright's "The Soloist" is larger than Jamie Foxx's homeless violinist Nathaniel Ayers and that he'll be pushed as a leading actor contender by the good folks at Paramount Pictures and DreamWorks SKG.  Apparently this is coming from a place of beaming confidence from the studio and Downey Jr. is said to be fantastic in the film.
"The Soloist" is, of course, largely Steve Lopez's story.  It is told from his perspective and is about, as the title of the book lets us know, "the redemptive power of music."  That would be Lopez's redemption as much as Ayers', seeing as the LA Times columnist has picked up his guitar again as a result of his relationship with the man.  (Listen to Lopez discuss his interaction with Ayers and the process of committing that story to print here).
Of course, actors with star power have a say in these things.  I can't imagine Paramount would want to put both of these guys in the same category, but I'm starting to get more of a "Resurrecting the Champ" vibe out of Foxx's role than before.  Perhaps he'd be better suited in the supporting arena, but again, these are decisions that have yet to be finalized.
It goes without saying that Downey Jr. is having a hell of a come-back year.  I'm still having conversations with industry folks that think he has a shot at Oscar gold for his work in "Iron Man," but perhaps Paramount can spin that goodwill into the Best Actor group think for "The Soloist."
Downey Jr., DiCaprio, Rourke, Jenkins, Langella, Penn, Mortensen, Eastwood, Pitt, Sheen……it's gettin' crowded in here.  And Heath Ledger may have just seized the supporting prize.
More as it develops…