Spike Lee knows how to mount a natural tension behind the camera. He knows how to create powerful scenes. He knows how to weave theme and yes, even subtext into his narratives. But more often than not he fails to put these gifts together in a successful piece that gets out of its own way and provides a complete experience.
"Mircale at St. Anna" isn't the nosedive that "Bamboozled" takes half-way through. It isn't the vibrant mess of "Mo' Better Blues" and it sure isn't the ineptitude and stylized aggression of "Inside Man." Indeed, it is probably the filmmaker's most unique effort in a number of years. But despite a few sequences that remind the viewer of the skill and artistic ability of its director, it is mostly a narrative strung along and together by poor performances (at least one of them awful) and unfocused screenwriting.
The story begins in Manhattan in the present day. A murder in a post office. Casual, but purposeful, and full of mystery. A giant stone head, a relic, discovered in the perpetrator's home. The intrigue on high so much that we can forgive the out-of-place and unnecessary, "Pilgrim, we fought for this country, too" that the character spoke not five minutes earlier (a typical on-the-nose Lee aside but also entirely out of keeping with the character's motivations).
A reporter is digging at the truth. "I know who the sleeping man is," the shooter tells him. We're hooked; what will the flashback have in store to explain all of this peculiarity?
Not a whole hell of a lot, as it turns out. We're zapped back in time to World War II in the countryside of Italy. The Buffalo Soldiers division, a group of African American soldiers referred to as an "experiment" by one blatantly racist commander played by Robert John Burke, will be our company throughout.
Private Sam Train (Omar Benson Miller — that terrible performance I was talking about) is lugging a familiar stone head around with him, rubbing it for good luck, chastized by his fellow soldiers for dragging the clunky object along. It was apparently part of a bridge the Nazis destroyed in Florence. Not that that bit of information will matter…ever again.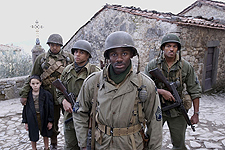 A botched aerial assault single-handedly gives Lee another opportunity to go for the reverse racism he portrays so well, puts "The Shield"'s Walton Goggins on cracker duty yet again, and getting back to the narrative, leaves the soldiers detached from the overall division and in some dangerous Nazi territory. They make their way to an Italian village oasis where they settle in for the majority of the film's 167-minute running time with a wounded, hallucinating child that Train has scooped up along the way.
What unfolds for the next hour or so is some of Lee's richer work in the film. The relationships between the Italians are more interesting than the Buffalo Soldiers, as are the fighters battling advancing Nazis in the forest. It's a WWII perspective I've never really seen committed to film in an interesting way and, even if the story had stagnated by this time, it kept me interested.
There are plenty of unfortunate diversions, of course. Like a flashback sequence that takes us to the Buffalo Soldiers' Louisiana barracks and a completely unrealistic stand against southern racism, even if it does lead in to one of the film's more artistically interesting shots and moments.
Meanwhile, a love triangle between Michael Early's Sgt. Cummings, Derek Luke's Sgt. Stamps and Valentina Cervi's sultry Renata comes across more impotent than particularly revelatory of either character's disposition. And the eventual "sleeping man" thing just falls flat on its face during a questionable beat.
I did, however, enjoy an early scene in the film that shows the Buffalo Soldiers methodically advancing on enemy lines as a Nazi belle whispers sweet racist nothings in their ears via a manipulative loudspeaker system. The underlying score mixes quite nicely with the tension-building editing of the sequence. When the moment finally erupts in gunfire, the payoff feels real because of Lee's steady and attentive hand.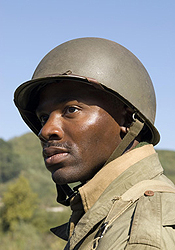 It's just a shame he continuously fails to apply that talent on an even level.
When the film finally reaches its laughable denouement — a scene that will have you wondering if, in Spike Lee's world, everyone wears fedoras and dresses like they're in 1940s Harlem (consider the style that permeates "Inside Man" and place it in a tropical setting) — the broken pieces of an incoherent film are all around you and their effects irreversible.
But there is reason to study "Miracle at St. Anna," regardless of how drastically it fails to make any point whatsoever. That is the theme of Lee's career in many ways. The failures are gems of value with interesting ideas worth investigation. It would also be fair to now say that Lee can handle a war film, as the action is never confusing and always moves the story forward. And as always, Terrence Blanchard's score is a soaring event unto itself that lifts Lee's work beyond what it might have been otherwise.
But isn't this becoming a consistent theme with Lee? It seems we always have to highlight the exceptions to his otherwise messy narratives, the silver linings in films that are burdened by the director's insistence upon sensationalized artistic comment. But it doesn't work. In fact it has rarely worked, and when we consider the perfect storm that allowed for the precise implementation of these elements, we realize that it was nearly 20 years ago and still his finest film to date.
A "Summer of Sam" here and a "25th Hour" there are enough to keep me stringing along, but soon enough, the string is bound to break. And then I guess we'll finally ask the question: Spike Lee, where have you gone?