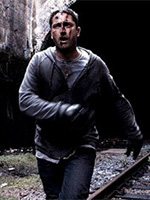 One of the great things about getting to review a film before the general press has had their say is having no idea where your views will stand in the tide of critical opinion. With only gut expectations to live up (or down) to, one can respond to nothing but the work at hand.
So it was last week when I reviewed Guy Ritchie's "RocknRolla," which screened yesterday in Toronto and opens in the UK today. I thought it a dismal effort, but was quite prepared to be in the minority on that one. Nonetheless, the extreme split in opinion that is emerging has taken me by surprise — not least because it seems to be on geographical lines.
The UK reception for "RocknRolla" has been decidedly frosty, with the tabloids and the more highbrow broadsheets seemingly united in their contempt for the film. The Daily Mail deems it an "embarrassing turkey," and The Guardian — in a one-star review that's not as funny as Peter Bradshaw thinks it is — is right with them, calling it a "shocker." (Or "shocka," to use Bradshaw Mockney-aping spelling.)
The Times is moderately kinder, acknowledging its entertainment value, but complaining that "it brings back too many jaundiced memories and fails to lay any fresh tracks." The drubbing continues at The Independent, who blame the "inexcusable banality" of Ritchie's script, while The Telegraph complains the film is "loud and brash but goes nowhere."
Cross the pond, however, and the US trade papers seem to have seen an entirely different film at Toronto. Variety loves "RocknRolla," declaring it "cleverly constructed, sensationally stylish and darkly hilarious," and predicting strong Stateside business. The Hollywood Reporter seconds that emotion, calling it Ritchie's "most accessible and enjoyable film yet." (Have they seen "Lock, Stock and Two Smoking Barrels?")
So what gives? Are the Brits being unduly harsh, perhaps affected by Ritchie's status as a constant tabloid presence on these shores? (I know I wasn't — I couldn't care less about his personal life, and harbour genuine affection for his first two films.)
Or rather, could this be one of those British pictures that plays better abroad than it does at home, arguably because it plays up to outsiders' perceptions of British society more than it resembles the actuality? It will be interesting to see what business the film does here over the weekend, particularly given that it opens against another, completely different Brit release — Keira Knightley costume soap "The Duchess" — that has received a bigger marketing push.
Either way, one wonders whether Warners head Alan Horn is going to re-evaluate his comments on "RocknRolla," wherein he dismissed its commercial prospects Stateside based on the assessment that "while funny in spots, it's very English."
If the trade papers' reviews are indicative of the reception the film faces in the US, perhaps "RocknRolla" isn't as English as Horn thinks.