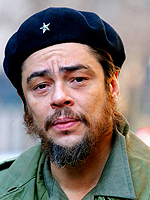 Lou Lumenick is hearing some rumblings on the "Che" buyer situation in Toronto. From his New York Post blog:
I'm hearing from an exhibition source that Mark Cuban's Magnolia Pictures has signed to distribute Steven Soderbergh's "Che" in the United States. The deal is expected to be announced shortly for the two-part biopic of the Argentine guerilla who worked with Fidel Castro starring Benecio del Toro, which premiered to mixed reviews in Cannes. A slightly shorter version — 4 hour 22 minutes total — will be showing at the Toronto and New York Film Festivals. NYFF will be screening "Che" at the 1100-seat Ziegfeld and don't be surprised if that's where this epic has a reserved-seat, Academy-qualification run beginning on December 12.

10 p.m. update: A Magnolia rep says an announcement would be "premature," but I hear they're already booking theaters.
Frankly, it sounds like a done deal to me. Magnolia is no powerhouse distributor but the company nurtures creativity and smaller efforts well enough. Each year it represents the Oscar-nominated short films, providing more exposure for them than they'd receive otherwise. But a major Oscar campaign is a tough row to hoe when it comes to a season packed with big dogs.
We've got a new buzz page for the film here, by the way.
We'll see.