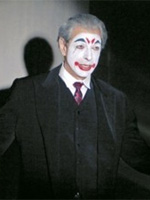 Looking at the latest contenders to muscle in on an already crowded Best Actor field, you could be forgiven for thinking it's 1986 or something.
First, the formerly washed-up Mickey Rourke rebounds with an apparently career-best performance in "The Wrestler" that is generating loud Oscar buzz.
Now Rourke's relative contemporary, Jeff Goldblum, is setting tongues wagging for another indie effort, albeit one with a much lower profile going in. As Holocaust survivor Adam Steiner in "Adam Resurrected," the latest film from the ever-underrated Paul Schrader, Goldblum is attracting the kind of attention he hasn't seen since, well, his career-making performance in "The Fly."
Writing from Telluride, where the film bowed, Cinematical's Kim Voynar began beating the drum:
Goldblum's performance as Adam is complex and engrossing to watch, and while I can't begin to fathom what it must have taken out of him to get inside this story and character to pull the performance off at this level, it's truly a wonder to behold onscreen. The Oscar buzz circulating Goldblum's turn in this film is far from hype; he educes the death and rebirth of a man's soul in such a way that I'd be hard pressed to compare it to anything I've ever seen onscreen.
Variety's Todd McCarthy is left pretty cold by the whole affair, but he doesn't deny Goldblum's achievement. He calls the performance "a genuine tour de force," even if he is concerned that viewers might not find a way in:
One can tremendously admire Goldblum's quicksilver performance without being engaged by it; even before the war, Stein seems unlike other people, and after liberation, his humanity has vanished. He's an exceptional character, and Goldblum has reckoned with it better than audiences are likely to.
Elsewhere, in their Telluride wrap-up, The Wall Street Journal deems him "nothing short of dazzling," one of several similar pronouncements doing the rounds.
In terms of Oscar prospects, Goldblum's biggest obstacle appears to be his own film — by all accounts, it's a challenging, eccentric work with limited audience appeal, and the reviews have been decidedly mixed. (Nothing surprising there — it's a Paul Schrader film, after all.)
In his favour, however, it's no secret that Holocaust films frequently hit a nerve with Academy voters — cue those unlikely victories in recent years for Adrien Brody and Robert Benigni. And Goldblum is one of those long-serving, consistently interesting actors whose lack of awards recognition to date is something of a surprise. (He was robbed for "The Fly," in my opinion, but the Academy, circa 1986, was nowhere near ready for that.)
As with the Best Actress competition, a number of previously unhailed contenders from the independent sector are now crowding the Best Actor field — including Goldblum, Rourke and early critical favourite Richard Jenkins. How many of them will go the distance remains to be seen, but it's clear that the big guns — from Langella to Pitt, Penn to DiCaprio — will have to be on top form to outpace the little guys.