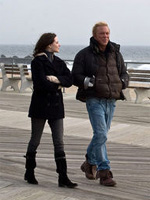 Now this is good news. Darren Aronofsky's "The Wrestler" bows at Venice tomorrow, but the trades have put up their reviews from Toronto … and they're mighty positive.
Todd McCarthy and the Hollywood Reporter's Stephen Farber both give credence to those Best Actor rumours for Mickey Rourke. Farber calls the performance the best of his career, while McCarthy goes further, declaring it one of the great performances, period.
On another note, I'm pleased to see that both critics confirm a hunch I had that Marisa Tomei — a personal favourite — would deliver too.
McCarthy raves:
Rourke creates a galvanizing, humorous, deeply moving portrait that instantly takes its place among the great, iconic screen performances. An elemental story simply and brilliantly told, Darren Aronofsky's fourth feature is a winner from every possible angle.

Rourke is simply staggering as Ram. The camera is rarely off him, and one doesn't want it to be, so entirely does he express the full life of this man with his every word and gesture … As vibrant — and as naked — as she was in last year's "Before the Devil Knows You're Dead," Tomei is in top, emotionally forthright form as she charts a life passage similar to Ram's, if much less extreme.
Farber has a few more qualms about the film itself, but is generally won over:
Although the film teeters on the brink of sentimentality, it never topples into the slush, and this is a tribute to the rigorous direction as well as the astringent performances. Still, there are mawkish moments …  "Wrestler" oscillates between hard-edged naturalism and stock melodrama but ends on an understated note of melancholy that seems just right.

Rourke dispenses with all vanity to plumb the depths of this well-meaning but severely damaged man. Tomei delivers one of her most arresting performances, again without any trace of vanity. Wood's part is smaller, but she captures the scalding anger of a woman neglected for most of her life. The supporting players add to the authenticity of the atmosphere. That authenticity is the hallmark of the production, with vivid cinematography and set design.
I do hope this turns out to be the consensus. It's difficult to overestimate how much I want everyone involved with this film to succeed.
As John pointed out the other day, Rourke is way overdue for reappraisal as an actor. If the critical love-in for him continues in this vein, you have to rate his chances for one of those late-career comeback nods the Academy sometimes likes to give out, a la Nick Nolte and Peter Fonda.
Tomei is consistently underappreciated too — the complete lack of recognition for her dynamite turn in "Before the Devil Knows You're Dead" was, for me, one of the biggest head-scratchers of last year's awards season. Could a third Best Supporting Actress nomination be on the cards this year?
Finally, Aronofsky deserves a break after the unfair pounding he took for his beautiful, fearless and widely misunderstood "The Fountain." If this review is any indication, "The Wrestler" should face a warmer welcome.