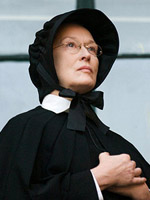 Wow, what a damn fine year for lead actress performances.  When was the last time you heard anyone say that?
I caught some flack recently when I took Meryl Streep off my predicted five nominees in the category.  "How can the Goddess miss?"  Well, she can, and she has, but regardless, the point is that there is some really stiff competition this year for the leading ladies, and man, that's exciting (and unique)!
Sally Hawkins ("Happy-Go-Lucky"), Charlize Theron ("The Burning Plain"), Kristin Scott-Thomas ("I've Loved You So Long"), Angelina Jolie ("Changeling"), Penélope Cruz ("Elegy"), Melissa Leo ("Frozen River") and Michelle Williams ("Wendy and Lucy") represent the seen and raved performances.  Anne Hathaway's work has also been viewed, but we'll get to that at the end of the week.  Rest assured, she'll have her fans as well.
On the horizon we'll have Nicole Kidman ("Australia") and the aforementioned Streep ("Doubt) in big Oscar hopefuls, not to mention Kate Winslet's double dip in "The Reader" and "Revolutionary Road" (which ought to make home life interesting for the five-time nominee around campaign time).
There are still fringe possibilities for Keira Knightley in "The Duchess" or Emily Blunt in "The Young Victoria," while Laura Linney could add an Oscar nod to her Emmy success if "The Other Man" finds a distributor in Toronto.
There's always Julianne Moore lurking with her work in "Blindness" should the mixed reaction from Cannes prove to be a different story in Toronto, and Kate Beckinsale, by the way, is fantastic in Rod Lurie's "Nothing But the Truth," so who knows?
So let's not get our panties in a twist over shifting and sliding in this category over the next few months.  I don't need consistent emails asking "Why did you take so and so out of your Best Actress chart," because the fact of the matter is, there are a lot of horses in this particular race.
Which is what we want, right?