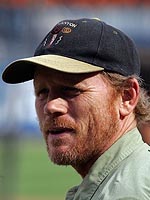 In 2000 I remember reading a post on Ain't It Cool News by Harry Knowles.  Having seen an unfinished cut of "How the Grinch Stole Christmas," the Ron Howard film based on the beloved Dr. Suess story and animated program, Knowles believed that the film would redefine Howard as a filmmkaer, elevate him to a higher level and be the film he would be remembered for.
Knowles felt it was a greater achievement than "Apollo 13" and pretty much anything else the director had done, that Howard had given us the fantasy film we had been waiting for. Admittedly the effects were incomplete, but Knowles was confident what he saw was a masterpiece.
Granted it was Harry Knowles, but then, of course, the film was released, critically crucified, reasonably successful before hitting DVD where it is not even regarded as a Christmas classic. You know why? Because it was not very good.
Whatever Knowles saw, and I am sure he saw something he felt was exciting, did not transfer to the final cut. Instead we had a busy film with a massively over-the-top performance from Jim Carrey and these bizarre little creatures with odd makeup called "Whos." Christine Baranski was in heat for the green misanthrope, though she had not seen him since he was a wee Grinch, and the town's mayor was still the pompous windbag he had been in school when he had humiliated our hero and sent him off to the mountain where he now resides.
They searched the continent of North America to find the right little girl to play Cindy Lou Who, and I suppose Howard thought they had found her.  Wrong.
One year later Howard won the Academy Award for " A Beautiful Mind," one of those wildly over-praised films that somehow win Oscars over better efforts like "The Lord of the Rings: The Fellowship of the Ring" or "In the Bedroom," or the un-nominated "A.I. : Artificial Intelligence."
For my money, Ron Howard has struck gold just once, with the brilliant "Apollo 13," a superb piece of filmmaking. The Academy awarded the film with nine nominations, but stunningly, despite having won the Directors Guild Award for Best Director, Howard was not among Oscar's list of helmers. What a terrible slap in the face that must have been!
In the years since "How the Grinch Stole Christmas" Howard has matured as a director, giving us a superb western that nobody saw called "The Missing," with outstanding performances from Cate Blanchett and Tommy Lee Jones, and the extraordinary "Cinderella Man," for which he and Russell Crowe should have earned Oscar nominations.
If this generation of directors has a filmmaker that resembles Frank Capra, I suppose Howard is the closest we have, though I am not suggesting he is in the same league. Howard is a good director, not a great one.
Which brings me to my point: I wonder if he can bring the edge needed to make a film like "Frost/Nixon" work?
There is little  evidence to suggest he has the depth as a director to make the film and make it right. The trailer looks great, but the trailor editor is king in Hollywood.  The actors look like they are geared up to do impressive work, Frank Langella in particular.  The good will surrounding Langella at this stage of his career cannot be discounted as many felt he deserved an Oscar nod last year, and his work on Broadway is legendary, going back to his late-1970s Dracula, transferred horribly to film in 1979.
Michael Sheen, of course, was terrific as Tony Blair in "The Queen" and the pair seem to have strong chemsitry in the few scenes we have been given (and those who've seen the play know the story there…I have not).  But again, it comes back to Howard…does he have the grit, the guts, the balls, call it whatever you want, does he have "it" to make the film work? It worries me.
Let's fact it, he screwed up a best selling book two years ago, went to battle with no less than Tom Hanks and cranked out a film that, though financially successful, was panned across the board.  Is the same fate in store for a popular stage adaptation?
I hope not.  I really do.  Because Ron Howard is a nice guy we've watched evolve from a child actor to a pretty fine director. No one will mistake him for one of the all time greats but the man can put together a pretty good film, and if Cecil B. DeMille can be remembered for the films he made, some of them terrible, surely Howard deserves his place in cinematic history.