The news that Sony Pictures Classics has acquired rights to "Broken Embraces," the latest from Spanish master Pedro Almodovar, isn't really much of a story. After all, SPC have handled Almodovar's last nine features, and after the success of "Volver," why would they stop now?
However, it does provide a nice excuse to post this gorgeous still from the film, courtesy of Almodovar's always-interesting blog: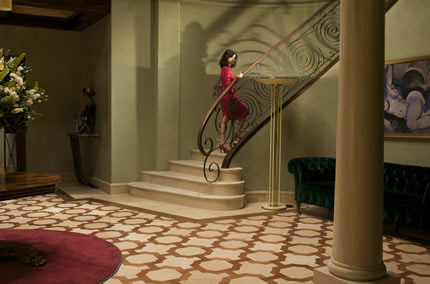 In case you didn't get this from the still, "Broken Embraces" represents another dive into film noir territory for Almodovar, a four-way love story led by Penelope Cruz. Among the films Almodovar cites as reference points are "Leave Her to Heaven" and the original "Kiss of Death." Awesome.
This has long been at the top of my most-anticipated list for next year. Almodovar is one of my favourite contemporary filmmakers — "Talk to Her" might be my film of the decade so far. But "Volver," beautifully crafted and delicately performed as it was, struck me as Almodovar-lite; going on the sketchy details we have, this sounds rather more substantial.
And Cruz seemingly can do no wrong at the moment — she even managed to fool some critics into thinking "Elegy" was a good film.
2009 can't come soon enough.