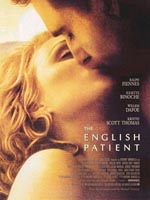 In 1996 I remember sitting in a packed screening room watching "The English Patient"; it was close to the end when Ralph Fiennes leaves Kristin Scott-Thomas in the cave, promising to come back, never to return, leaving her (through no fault of his own) to perish.
I couldn't help thinking at the time: "For fuck's sake woman, DIE so we can all go home."  I hated the film — hated it, hated it, hated it — and yet the reviewes were pretty much raves.  Of course the damned thing won nine Academy Awards including Best Picture and Best Director. I did not believe the love connection between the leads (there was no heat) nor that anyone, quite frankly, could fall for an ice queen like Scott-Thomas, much less risk their life for her.
And yet all around me was this avalanche of praise.  Even the person I did a TV show with named the film the best of the year.  I went with "Trainspotting."  "The English Patient" was being hailed as this great historical epic while I championed "The Crucible," which Fox fumbled in releasing, and as the critic who disliked the film, I looked very silly.
I admire the craftsmanship with which Anthony Mingehlla made his film, but I think he surpassed it with "The Talented Mr. Ripley" and the wonderful "Cold Mountain."  And of course "The Englsih Patient" was not the first critically acclaimed film I disliked, nor will it be the last, but it does put one in an odd position. You second guess yourself (sometimes) and wonder if you missed something along the way.
Among the other heavily-lauded films that missed this boat were "From Here to Eternity," a sadly over-appreciated soap opera set against the backdrop of Pearl Harbor and the days leading up to December 7.
I did not care for "Chariots of Fire" (at all) and stand by my opinion that "Gandhi" was grossly overrated. A great Ben Kingsley performance does not a great film make.
"The Last Emperor," though beautiful to look at at, left me curiously unmoved. Yes, Vittorio Storaro's images were divine, but I do not go to the movies to look at postcards.
I remember seeing "Chicago" for the first time and being entirely unimpressed by the film as a whole, liking aspects of it and listening to the praise of other critics as I left the screening, knowing I was going to be among the minority of those who was not bowled over by the film. The same thing happened when I saw "Crash" for the first time, some stuning moments, but is it a great film? I did not think so, but some people certainly did.
And hey, if we want to reach further back let's go there. I know why "Citizen Kane" is considered the greatest film of all time, and I get that, but I disagree. In my opinion other films have surpassed "Kane" and it is now for me the most innovative film of all time. I fail to see why people fall over themselves searching for superlatives to describe the work…brilliant yes, the most brilliant?? Nope, not for this critic.
And please do not even get me started on Laurence Olivier's "Hamlet," potentially the most over-praised film of the 1940s.  You want great "Hamlet" watch Kenneth Branagh's magnificent work.
Do these opinions get me in hot water from time to time?  Sure.  But we all have them and I love provoking the discussion so tell me, what films to you feel are over-appreciated, over-praised, left you cold?