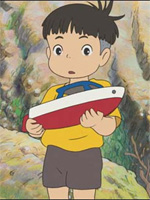 Six days in, and a rather quiet Venice Film Festival has come up with its first unalloyed critical triumph – an animated Japanese re-imagining of Hans Christian Andersen, aimed primarily at children still in the single digits.
That would be surprising were "Ponyo on the Cliff by the Sea" directed by anyone other than Hayao Miyazaki, the Oscar-winning animation master who has, in recent years, crossed over to being one of the industry's most venerated auteurs. After all, "Spirited Away" — for me, still one of the crowning cinematic achievements of the decade — began its incredible success story when it won the Golden Bear at Berlin in 2002 (sharing with Paul Greengrass' "Bloody Sunday," no less).
2005 follow-up "Howl's Moving Castle" didn't reach quite the same dizzy heights, but it was another richly textured, narratively daring work that received its fair share of acclaim, and a second Oscar nomination for Miyazaki.
Now comes "Ponyo," apparently a return to the simpler, gentler storytelling of earlier films like "My Neighbour Totoro," that is already doing spectacular business in its home country. And it seems the looser style and younger target audience hasn't deterred critics in the slightest. Screen Daily breathlessly raves:
Visually, it's extraordinary; imaginatively, it's daring. Once again Hayao Miyazaki is playing in a league of his own with … a sweet, gentle, moving, and always delightful Japanese take on the classic Little Mermaid fable … "Ponyo" is firing on all cylinders on every level. From the sheer creativity of its traditional cell animation to its characterisations (every adult here feels real); the interactions between old and young; the untrammelled imagination on display throughout the story; and, above all, the way Miyazaki still dares to be different.
Wow. The Hollywood Reporter concurs:
A refreshing thirst-quencher in a thus far dry Venice lineup. It is a work of great fantasy and charm that will delight children ages 3 to 100 … the total absence of CGI work — the whole film is drawn by animators — heightens the film's childlike charm. In Miyazaki's fertile imagination, the ordinary and magical worlds blend into each other; both are full of marvels.
Perhaps most miraculously, the film has even lifted Variety out of their grouchy Venice mood:
Though targeted at tots, "Ponyo" may appeal most to jaded adults thirsty for wondrous beauty and unpackaged innocence … Far more upbeat than much of Miyazaki's oeuvre, limned in bright pastel colors where even destruction is golden, "Ponyo" possesses an almost demonic childish energy and a delight in form stronger than reason or narrative.
Finally, moving away from the trade papers, the Telegraph's brief (and typo-littered) review declares it a "classic," elaborating that "the draughtmanship is jaw-dropping, and Miyazaki's ability to express extremes of emotion in his child characters without resorting to sentimentality or treacly music is remarkable."
They go on to speculate that film could indeed make a run for the Golden Lion – certainly, in a festival (so far) short of home runs, you'd have to regard it as a top contender.
Last I heard, the film was slated for a June 2009 release in the US. As Kris mentioned a few weeks ago, 2009's Best Animated Feature Film race already has a few contenders on the horizon, but this looks the surest best of all.