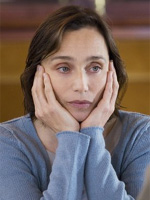 Compared to the drought of previous years, where the five nominees have been all but pre-determined for months in advance, the Best Actress race is looking rather crowded at this point. (It's certainly the major category that gave me the most pause when I updated my predictions this morning.)
What's gratifying to see is that the field features so many contenders from independent films, including the much-discussed Sally Hawkins, Charlize Theron (coming off a lot of Venice buzz), Anne Hathaway, Melissa Leo and Michelle Williams.
But perhaps the darkest horse of all is Kristin Scott Thomas, an actress whose star has dimmed somewhat Stateside since receiving her only Oscar nomination twelve years ago. In that time, she's been working more and more frequently in her adopted homeland of France, and she now returns to prominence with the French-language "I've Loved You So Long," a dark domestic drama in which she plays a woman reconnecting with her family after fifteen years in prison.
Scott Thomas has been garnering steady acclaim since the film bowed at Berlin in February. Now, in the wake of its Telluride screening, and in the midst of a rave review declaring the film a "rare masterpiece," Cinematical joins the chorus with this bold assertion:
Thomas's performance here has been generating Oscar buzz for a while now, and deservedly so; she will almost certainly garner a Best Actress Oscar nod for this film.
That's a hefty claim for what looks, on paper, like a long-shot contender with a lot of competition. But Scott Thomas has a lot going for her besides just the performance. In October, she treads the boards in what is set to be one the hottest tickets on Broadway – the Royal Court revival of Chekhov's "The Seagull." (I saw it last year – get there if you can.) And her appearance in "Tell No One," a surprise arthouse hit in the US this summer, compounds a very good year for the 48 year-old beauty.
Cinematical also makes a case for a Best Original Screenplay nod for first-time director Philippe Claudel, and suggests that the film has the potential to be a crossover foreign-language success in the vein of "The Lives of Others."
I've already mentioned that the French have a lot to choose from when they select their Best Foreign Language Film candidate. However, if this is an indication of the critical reception that lies ahead for the film, "I've Loved You So Long" could be the savvy pick — particularly if Scott Thomas does make inroads into awards season. Last year, in bravely putting forward "Persepolis," France made the right choice artistically, but not tactically. (You know that white-bread Foreign Film committee would have nominated "La Vie en Rose.") It'll be interesting to see what they do this year.