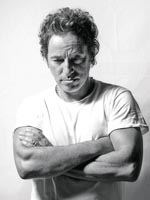 As if I need one more reason to see this film. The Boss? Seriously? Darren Aronofsky is hitting all the right spots with me lately.
Apparently the director has recruited Bruce Springsteen (the greatest live show you'll ever see, FYI) to pen an original track for "The Wrestler," a film I'm already dying to see.
Anne Thompson writes:
The company [Wild Bunch] is debuting Darren Aronofsky's The Wrestler late in Venice, concurrent with Toronto, because they're waiting for Bruce Springsteen to finish his song for the movie's credits.
The fact that it is a closing credits number could hurt it's Oscar hopes, given that the Academy has shied away from such material since the rule change three years ago. But a good song is a good song, dammit, and Springsteen is incapable of writing a bad one.
Good lord I hope this is picked up in a hurry so I can figure out who to talk to about screenings!
Springsteen won the Oscar for Best Original Song in 1993 for "Streets of Philadelphia," from Jonathan Demme's "Philadelphia." He was also nominated in 1995 for the title track to Tim Robbins's "Dead Man Walking.