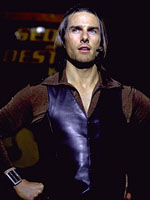 I remember slipping into a small theater in 1987 to see something called "Street Smart," the new Christopher Reeve film that I had no particular interest in, to be quite honest. Two hours later I emerged knowing two things: Morgan Freeman was a brilliant actor, and he would be nominated for an Academy Award.
In a rather lacking movie, Freeman was terrifying as Fast Black, a vicious pimp who sees in a young reporter the chance to get off of a murder rap. At one point in the film he holds a pair of scissors to the eye of one of his hookers and invites her to choose which eye she is going to lose. It was an astounding performance that launched the actor's career, earning him awards from the Los Angeles critics, New York critics and National Society of Film Critics…as well as that Oscar nod I predicted.
Supporting performances can often be the heart and soul of a film, anchoring the picture and actually elevating the work of the lead actor. Can you imagine what "The Wizard of Oz" would be without the perfection of the cast surrounding Judy Garland, or "The Godfather" without the magnificence supporting Marlon Brando and Al Pacino? Nor can I, and in fact, through the years, supporting performances have become more and more important, certainly earning more press, with lead actors once unwilling to be promoted for an Oscar in these "lesser" categories now only to be happy to do so.
Tom Cruise, arguably the biggest actor on the planet in 1999, gave his finest performance in a supporting role in "Magnolia" and somehow — SOMEHOW — lost the Oscar to Michael Caine. Jack Nicholson has gone the supporting route many times, winning an Oscar for his work in "Terms of Endearment" and earning nods for "Easy Rider," "Reds" and "A Few Good Men," though he was criminally snubbed for "The Departed."
Meryl Streep has become no stranger to supporting roles, earning an Oscar nod for "Adaptation" in 2002 (she too should have won) and certainly turning heads for a should've-been-nominated turn in "The Manchurian Candidate."
Sometimes an actor in a supporting role can dominate the film, as we saw this summer with Heath Ledger in "The Dark Knight." In "Apocalypse Now" the film actually peaks with Robert Duvall's napalm-loving surfer, not Brando's deranged Colonel. Like Javier Bardem in "No Country for Old Men," Duvall so dominated the screen when he was on it. In just a few scant scenes…we could never forget him.
The work of the supporting actor, the "job," so to speak, may seem to be support of the lead actors, secondary figures in the canvas of other artists. But what we see more often than not is their support of the story, and in many cases, their rise to infamy as a result.
Have your say. What are some of the most sensational supporting performances in film history?