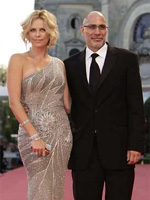 I've already said how high my hopes are for "The Burning Plain," the directorial debut from one of the most interesting screenwriters in the business, Guillermo Arriaga. Now the reviews are trickling in, and they're — predictably — mixed.
Variety, as is often the case these days, provides the major buzzkill, dismissing it as "an elaborate writing exercise" (like that's a bad thing) with "little to become engaged with." Happily, Lee Marshall at Variety's UK equivalent, Screen International, couldn't disagree more:
A powerful contemporary melodrama, more restrained but also much cleaner, in dramatic focus and emotional thrust, than the three films Arriaga penned for Inarritu … A sombre story about an unforgivable act and its cross-generational fallout is here leavened by a greater dose of hope and redemption than Arriaga has yet allowed himself, and the games The Burning Plain plays with its audience are amply justified by the emotional punch of the film's denouement.
The UK papers (again quicker on the draw than their counterparts across the ocean), are more measured in their praise, but it's praise nonetheless. Most enthusiastic is David Gritten at the Telegraph, who asserts that it's "the one to beat" for the gold at this admittedly early stage in the festival, citing its "universal themes and a clutch of fine acting performances."
Over at The Times, Wendy Ide – clearly another member of the "hit-or-miss" contingent, isn't quite turning cartwheels, but still gives it the thumbs-up:
The Burning Plain (is) an elegantly structured tale of lives laced together with tragedy and guilt. But for the rush of recognition that greets the story structure, it's actually rather good. It lacks the relentless bleakness that leached the life out of 21 Grams and the portentousness that irritated many critics in Babel.
The Guardian, however, while finding much to commend in Arriaga's construction, is lukewarm on the final result:
The truth is he has a long way to go before he can match Iñárritu's cinematic panache … Arriaga has not disgraced himself; thanks to his writing, there's an underlying strength that means his film remains engrossing. But it doesn't feel like he's got much new to say; it feels like a step backwards.
Hardly a home run with the critics, then – it's probably safe to say this isn't the vehicle to get Arriaga his (overdue, in my opinion) Oscar.
The reviews tell a different story, however, for Charlize Theron, some of them going so far as to suggest this could nab her a third nomination. Ides calls hers the standout performance of the film ("the force of her self-loathing hits the audience like a blow"). Marshall is even more direct, declaring it "a full-on, Oscar-booking keystone performance," while Gritten deems both Theron and co-star Kim Basinger "racing certs for next year's awards season."
She may be only two nominations in, but I sense Theron is comfortably in the Oscar club – anyone who can get nominated for a film as pedestrian and unpopular as "North Country" is clearly in the Academy's good books. No one in the industry has a bad word to say about her – she's smart, modest, professional, gives great interviews, can work a red carpet like nobody's business (as she did last night) and just happens to be a terrific actress too. You can bet if they have a chance to nominate her, they will. Keep an eye on this one.