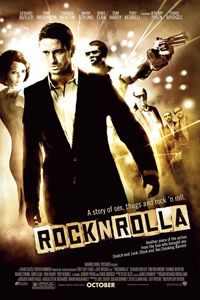 Short of seeking or citing any legitimate critical opinion, the marketing team behind "RocknRolla," the fifth feature from Guy Ritchie, have gone to much effort to portray it as a creative comeback for the much-maligned filmmaker.
Here in the UK, the words "return to form" are splashed prominently across billboards for the film (set to make its North American bow at the Toronto fest): a frank admission that Ritchie's last two efforts, "Revolver" and "Swept Away," were across-the-board disasters. They appear to be working the angle that this is something of a back-to-basics effort, a happy reunion between Ritchie and knockabout gangland comedy.
And indeed, for the first few minutes of "RocknRolla," hopes are high that Ritchie has rediscovered the fleet-footed timing and lightness of touch that made his trend-setting 1998 debut "Lock, Stock and Two Smoking Barrels" such a delight, and its lesser follow-up, "Snatch," such a guilty pleasure. The animated credit sequence, as you may have heard, is a thing of considerable beauty. More importantly, the opening scene, which employs swift, sexy cuts between multiple actors and locations to maintain a multi-voiced monologue on the fortunes of present-day London (Ritchie presumably wrote this before the recession), is something to behold.
But then the pace settles, the actual narrative reveals itself — and the whole enterprise, shorn of these initial stylistic tics, steadily falls apart. Ritchie has dialed down his style of story construction since the incomprehensibly convoluted "Revolver," but he may have overcompensated — the size of the ensemble notwithstanding, there is really very little storytelling motor here.
The story, such as it exists, is set into motion when Tom Wilkinson's East End crime baron Lenny does a dodgy property deal with a slick Russian billionaire (a thinly veiled Roman Abramovich clone). Things go predictably awry when Lenny's double-dealing accountant Stella (Thandie Newton) tips off Gerard Butler's shabby crook One-Two about the deal. One-Two and his crew, themselves having a major financial debt to Lenny, intercept the handover and make off with the cash, leaving Lenny in the lurch when assorted officials knock on his door to collect.
And so on and so forth. The ensuing hijinks — few of them engaging, fewer still surprising — include the theft of a valuable (and unseen) painting that becomes the film's contrived MacGuffin, an ongoing flirtation between Stella and One-Two that culminates in possibly the fastest and most perfunctory sex scene in the history of cinema and the faked death of Lenny's stepson Johnny, the Pete Doherty-modelled crackhead rocker of the title.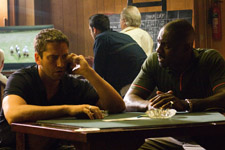 The latter strand, which also features a bewildered, bizarrely-accented Jeremy Piven and Ludacris as goofy Yank club owners, is oddly shoehorned into an otherwise disengaged narrative, and provides a most unwelcome outlet for the cod-philosophizing that so marred Ritchie's last two efforts. (Sample line: "There is no spring without a winter; there is no life without death." Yes, really.)
The flimsiness of the entire construction would matter less if there were more wit and crackle in Ritchie's script, or if the actors, at least, appeared to be having fun with it. ("Lock, Stock" didn't bear close scrutiny either, but we were too entertained to bother.) Sadly, in the wake of his failures, Ritchie appears to have wholly lost his confidence and spontaneity as a writer; even the cleverer one-liners feel overworked and over-worded, tripping up the actors at every turn.
More alarming still, Ritchie's writing betrays precious little acquaintance with his characters or his story world. His weirdly dated heavies appear more informed by "Get Carter" than any facet of contemporary urban Britain. Twee soundbites like "You've got more feet on the street than coppers on the beat" imply an artist hopelessly out of touch with his subject, particularly in a year that has given us the thrilling gangster patois and linguistic invention of Martin McDonagh's "In Bruges."
The film's lack of currency is exacerbated by a sour current of gay panic running throughout. The revelation that one of One-Two's crew is homosexual instigates a protracted running gag that has one wondering whether Ritchie has ever met a gay person, or perhaps just read about them in the Daily Mail.
Amid the mess Ritchie has wrought, it's not surprising that the impressive cast is uncertain how to play this. Butler opts for the Clive Owen school of cool underplaying, and acquits himself ably enough, though it's  clear he hasn't the screen charisma to carry this kind of ramshackle endeavor.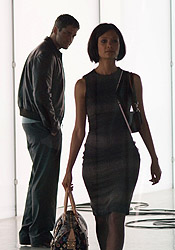 Wilkinson, spectacularly miscast as a blustery cockney geezer in the Michael Caine mold, quickly falls into a limited range of hyped-up vocal and physical mannerisms; he's never been so uninteresting on screen.
Newton, meanwhile, is even more rigid as femme fatale Stella; self-aware and unresponsive in her chemistry-free scenes with Butler, she proves, as in "The Truth About Charlie" and "M:I-2" before, how ill at ease she is with sexually game characters.
What few bright moments there are belong to journeyman actor Mark Strong as Lenny's right-hand man Archy. Strong, who had a far more successful foray into London gangland territory as the lead in the BBC's dynamite adaptation of Jake Arnott's "The Long Firm," wisely takes a tongue-in-cheek approach here, and his loping physicality and terse, irony-inflected line readings provide welcome respite from the mugging around him.
An early scene where he demonstrates the art of the slap provided the film's only laugh-out-loud moment for me. (Like everyone else, however, he struggles in the film's lumbering, oddly stagy climax.)
Ritchie obviously values Strong's contribution too; the film ominously ends with an onscreen promise that Archy and assorted other characters "will be back in The Real RocknRolla." It's clear Ritchie has sufficient faith in his supposed creative resurgence to presume we'll all be on board for a sequel. For this writer's part, to coin an iffy pun (and why not — Ritchie does), this was one "RocknRolla" too many.