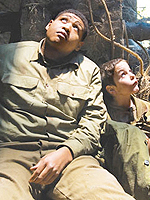 Armed with the fat program book, detailing every single film to be screened at this year's Toronto International Film Festival, I have gone through it several times to find the films I am interested in seeing. The press schedule is announced online today, at which time I will begin the nightmarish process of creating a calendar that details screening times, interview times, and leave room for the unexpected, a last minute call from a frantic publicist to do an interview I had requested and been declined, but now they want me.
I love TIFF.
Aside from Christmas (for my kids) this is my favorite event of the year. Admittedly this one is a tad lower key than in other years as there were some last minute disappointments, films we thought were coming, rumored to be coming, and are not. The hottest whisper on the wind saw "Body of Lies" here with Leo, Russel and Sir Ridley, as well as "The Road," a film I cannot wait to see, having read the amazing book in three scant days.
I had hoped Eastwood's "Changeling" would be here, but for some goofy reason Angelina Jolie could not make it and the festival folks felt Clint Eastwood was not enough star power on his own…(ouch!).
Those minor complaints aside, I am now officially pumped for the festival to begin. Following are the ten most anticipated films of the fest for me and me alone. I will see more than 40 films over the 10 days, conduct 20 interviews or so, and maybe get four hours of sleep a night. I will ingest more coffee than is healthy, drink far too much water, and eat poorly, but hey…it's festival.
Check out the list after the jump…
1. "Che"
I have wanted to see this since I first heard it was in development. I loved "The Motorcycle Diaries," Walter Salles' super film about Che's younger days, the opening of his eyes to the situation in his country, and think Steven Soderbergh and Benicio Del Toro will create something very special here. My hope is the film will find a distributor and open in time for Oscar consideration because it sounds like, at the very least, Del Toro is a lead actor candidate.
2. "Appaloosa"
It's a western, it's Ed Harris directing and starring with Viggo Mortensen, and did I mention it's a western? Last year we had "The Assassination of Jesse James by the Coward Robert Ford" the second best film of the year, the best film of the festival, and among the greatest westerns ever made. Can history repeat itself? Harris is never anything less than interesting, and at best one of the greatest actors working in film. Mortensen, well, he's is simply astonishing, which makes this a must.
3. "Flash of Genius"
I was a huge fan of Greg Kinnear's edgy performance as Bob Crane in "Auto Focus" and am looking forward to similar greatness in this film about the man who created the intermittent windshield wiper only to have Ford steal his idea and shut him out. Sounds Capra-esque…does it not?
4. "Passchendale"
It's Canadian, about one oft he most savage battles in Canadian history during the first World War, it has long been a pet project of actor and director Paul Gross, and it looks incredible. The question is of course…will it be incredible? I hope so.
5. "'Rachel Getting Married"
When Jonathan Demme is on, he is among the best working, and something tells me after seeing the trailer for this one that he is on again. Anne Hathaway may have the breakthrough role of her career as a screwed up soul returning to her family for a sister's wedding. There is something slightly edgy about Hathaway to me, a dark side hidden that may break through with this one. And hey, the great Debra Winger is in this as well.
6. "Nothing But the Truth"
Kris is very high on this one, which makes me curious, but straight up, I like the work of Rod Lurie. "The Contender" contained some terrific performances and was a powerful picture, as by a few accounts is this. I am a Kate Beckinsale believer and have been for a long time. Beyond being beautiful and looking great as a vampire, the girl can act, as she proved in "The Aviator," and to a lesser degree in that thing she did with Adam Sandler. This one looks hot, with a killer cast and strong subject matter.
7. "Adoration"
Again a Canadian work, shoot me, but I am an Atom Egoyan fan. Like Demme, hell like all directors, when he is on, he is among the elite in the world as "The Sweet Hereafter" made clear. There has been a tendency in his work recently to get pretentious, and I am hoping that is not the case here. Scott Speedman is in the film with Rachel Blanchard and actress Arsinee Khanjian, Egoyan's muse.
8. "Blindness"
I know what they said at Cannes, I have read the reviews, but I do not take the word of critics as gospel. No one should, they should always see the film for themselves and made their own judgment. I am fascinated with this idea, a plague that attacks a city and leaves all but one woman blind, causing anarchy and chaos. Julianne Moore stars, along with Mark Ruffalo in a film directed by the brilliant Fernando Meirelles.
9. "Miracle at St. Anna"
This had better be good after all Spike Lee's yammering at Clint Eastwood back in May. Spike has always been talkative, always controversial, and always a great director, and here he may have the film that finally lands him a long overdue nomination from the Academy for Best Director. It'll be interesting if both of these guys land nominations for best director at the same ceremony!
10. "Lovely, Still"
Two great actors, students of the method, one of whom worked with James Dean, the other the former artistic director of the Actor's Studio in New York. I am there. Martin Landau and Ellen Burstyn, both Oscar winners and multiple nominees find love in this odd little film that twists and turns to become what we least expect. Watching the two old masters work will be a master class in acting.
And of course there are many more I could put on the list, but if I had to choose just ten…these would be the ten.
###
A brief personal note for those who have wished me well in my off-the-net tribulations. I almost chose not to go to Toronto this year. Back in May my beloved wife was diagnosed with brain cancer, aggressive. Sadly the radiation has not done what we had hoped and Sherri will begin chemotherapy very soon. This has all been very overwhelming and I have found it impossible to think about much else, all my energies and thoughts dedicated towards my wife and children.
When I broached the subject of not doing the festival this year, she ended it right away. "How can you not," she said with clear-eyed certainty. "It's what you do!" And because like all smart husbands I always listen to my wife, I am indeed attending the festival and she will bring the girls down weekend one. As always we will eat together, dad will head off to work, and I will see them when I see them, happy in the knowledge that they are having a blast at the hotel or shopping.
So with Sherri firmly in mind, I am getting excited about the film festival. One can only hope to find a champion like her as your partner, someone who always believed my crazy obsession for movies would build into something. Because you see she is right, it's what I do.