Sitting at a bus stop in London's Shoreditch at 2am, waiting for the ever-elusive night bus home, I had rather a long time to contemplate the new UK poster for "The Duchess," Paramount Vantage's Keira Knightley costume flick…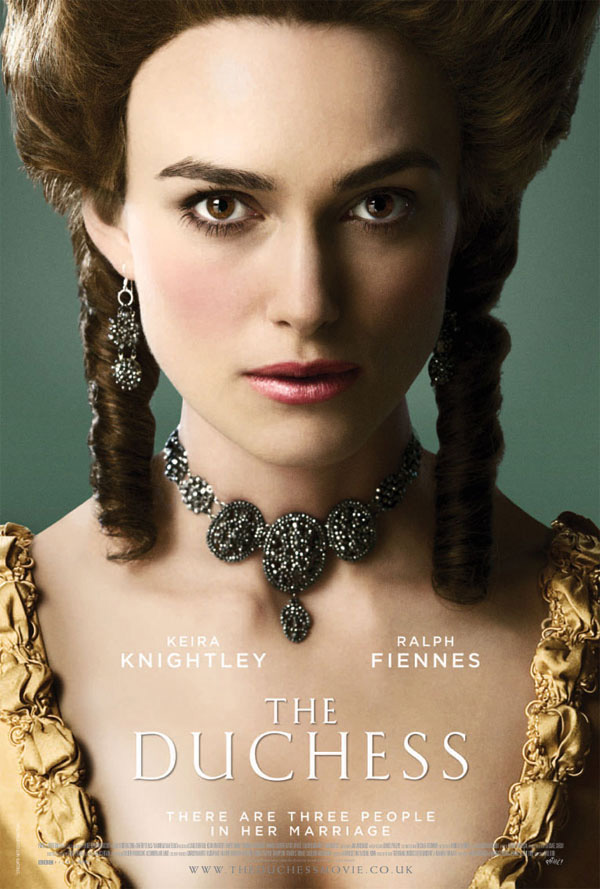 … and my initial reaction was that, to my surprise, I rather liked it. Clean, stark, beautifully lit (the colours are richer in print), it also squarely emphasises the basic drawcard of what looks (to me) like a rather uninteresting film: a gorgeous woman in nice frocks.
But then I came to that tagline – "There are three people in her marriage" – and, well, ick.
I understand that the titular Duchess of Devonshire, Georgiana Spencer, was a distant relative of the late Princess Diana. But invoking the latter's most famous soundbite to lure in the considerable crowd of avid Di-worshippers strikes me as morbid, to say the least.
It gets worse. The UK trailer abandons all pretence of subtlety, overlaying images of Diana herself with such banal phrases as "Two women related by ancestry … united by destiny" and "This summer … history repeats itself." I understand the urge of the marketing department to give the film some semblance of contemporary relevance, but that's just tacky.
Two people who agree with me are Knightley herself, and Amanda Foreman, the author of the biography on which the film is based. Both have slated the marketing strategy, insisting the film has nothing whatsoever to do with the former Princess of Wales. Calling the trailer a "bad joke," Foreman also rather wittily criticised by "united by destiny" tag, saying: "I don't think actually that Georgiana died in a carriage crash."
It remains to be seen how effective the tactic will prove. Transparent as it is, there's a huge proportion of the British public ready to lap up anything Diana-related. It could backfire, however, if word of mouth spreads that the film is just another dressed-up bodice-ripper without so much as a mention of the People's Princess.