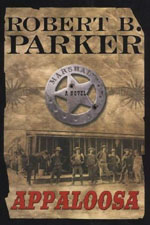 Before I head out today on a whirlwind of pre-Toronto screenings that will take me away from the work at hand, I wanted to follow up last week's brief comments on Robert Parker's novel "Appaloosa," which is being adapted for the screen by director Ed Harris this year (and will play at the festival next week).
I'll reiterate here that the most interesting dynamic of the entire narrative is the relationship between Virgil Cole  and Everett Hitch.  Two gun hands that swagger from town to town to clean up messes, make up "laws" that must be followed and represent order for a small time before moving on, they've got a 15-year partnership that goes to the bone marrow.  The Hitch character relays the story in the first person, which makes the wordless conversations between the two men, the subtle nuances of knowledge, the all around ability to intuit each other's disposition — especially where Hitch is concerned — all the more intriguing.
Consider a scene that depicts Cole flying off the rails and beating a giant bar patron to a pulp, furious at some outside irritant more than the patron's loud antics.  Only Hitch can pull him off the man, and he does so with a calm, inevitable touch, lifting Cole off the ground and pulling him back until Cole tells him, twice, and equally calm: "You can let me go."  It's an awesome dynamic these two have.
Cole and Hitch will be played by Ed Harris and Viggo Mortensen respectively in the upcoming film, and I really hope they can pull off this chemistry (I'll know soon).  The narrative itself might be a touch trite and Renee Zellweger's Allie character is certainly it's most irritating aspect, but the peculiarities of character that Parker writes into the two leads more than make up for that.
So if you're a fan of the genre, I'd recommend it.  Don't expect a miracle of substance, but you'll get some nice grit and hard-nosed simplicity to sink your teeth into.