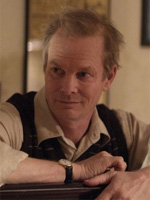 In his autumn preview, Noah Forrest at Movie City News briefly kinda-reviews Jonathan Demme's "Rachel Getting Married," which will make its official bow at Venice next week. Having seen an unfinished cut, he gives it the thumbs-up, citing "beautiful music, excellent performances and a few surprises I didn't see coming."
Most excitingly, he compares it to Demme's loosier, funkier output from the 1980's, which is fine by me. If the film has anything approaching the wit and danger of "Something Wild," I'm there.
Forrest also throws a new, relatively unheralded name into the Oscar cauldron. Much has been made of the awards potential the film offers for Anne Hathaway and Debra Winger – though in the latter case, the buzz seems to be built more on industry goodwill towards the actress than on anything else. As Kris has pointed out, Rosemarie DeWitt (best known as Jon Hamm's boho mistress in "Mad Men") appears to have the meatier supporting role, and could well make an awards run. Forrest, meanwhile, has someone else in mind:
While Anne Hathaway and Rosemarie DeWitt (are) excellent in it, I want to start beating the Best Supporting Actor drum for Bill Irwin. He plays the patriarch of the fractured clan and he is so damn good that I couldn't stop shaking my head, awed by how effortlessly he brings both pathos and humour to the role.
A respected Tony-winning stage actor whose screen work ranges from "Sesame Street" to Ron Howard's ill-fated "Grinch" film, Irwin hasn't had a breakthrough film role yet – this could be it.
So far, "Rachel" is looking more like a contender for acting (and possibly writing) nominations than the big prize, but the Academy can occasionally give a lot of acting slots to an otherwise low-profile pic ("Iris" being a good example). This film seems to have a lot of balls in the air.