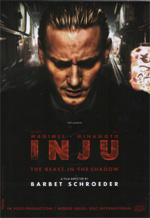 So the Venice Film Festival kicks off tonight with its glossiest title, the out-of-competition "Burn After Reading." Reviews ought to start trickling in tonight, though it's worth bearing in mind that festival fever can often give the premature illusion of critical consensus.
Screen International has a very handy rundown of the festival lineup – both in and out of competition – which paints a much clearer picture of the more international entries than anything else I've read so far.
Less-covered competition films that particularly caught my eye include "Inju: The Beast in the Shadow," a Franco-Japanese thriller starring the excellent Benoit Magimel, marking a return to fiction film for Oscar nominee Barbet Schroeder, "Jerichow," a German riff on "The Postman Always Rings Twice," and, by far the least heralded of the US entries, "Vegas: Based on a True Story," a portrait of down-and-outs in the titular city from Iranian director Amir Naderi.
(Not to mention an out-of-competition contingent that includes new works from such weighty auteurs as Claire Denis, Agnes Varda and Abbas Kiarostami, whose "Shirin," starring Juliette Binoche, I've already mentioned is my most anticipated film of the fest.)
Much has been made of how the lineup is less starry and more globally oriented than in previous years. The prevalence of younger, lesser-known filmmakers accounts for what feels like muted buzz ahead of this year's edition, but Screen International's Lee Marshall applauds Venice director Marco Mueller's risk-taking, suggesting that it points the way to the future of the film festival:
Venice director Marco Mueller seems to have understood most clearly the auteur party is over: in his presentation of this year's Venice programme, he warned darkly that "cinema is (almost) no longer cinema", going on to say the type of "classic" contemporary cinema that festivals such as Venice seem designed to support has finally run out of steam …

… Behind the smokescreen of flashguns, it is clear Mueller is attempting to resolve the contemporary festival programmer's post-auteur dilemma by focusing on films, not directors. The 2008 Venice selection is his most radical statement yet of this principle.
It seems a sound strategy, particularly in light of what happened at Cannes this year: while the big-draw titles either floundered ("Blindness") or struggled to gain traction with distributors ("Che"), small no-name pics like "The Class" and "Gomorrah" proved the runaway hits of the festival. The Guardian, meanwhile, also approves of the more international flavour, though they squeeze in a whinge about the absence of any British titles. (Get the message, chaps: there is no UK cinema "renaissance.")
In years past, Venice could usually be relied upon to present at least one (comparatively) mainstream hit that went on to be a major awards player ("Brokeback Mountain," "Atonement," "Far From Heaven"). It's difficult to tell if it has quite such a card in its hand this year, but should a "Burn After Reading," "Hurt Locker" or "Rachel Getting Married" prove to be sufficiently crowd-pleasing, that would be enough to sustain Mueller's edgier inclusions.