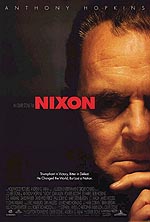 With Lionsgate Films' "W." on the horizon, we are reminded of the last film Oliver Stone made about an American President: "Nixon," a critically praised and Oscar nominated work that was the exact opposite of what most thought it would be.
An angry child of the 1960s, having chronicled Vietnam on screen (some say definitively), Stone announced he was making a biography of President Richard M. Nixon and the feeling was that the film would be an attack on the man, who resigned office in 1974.  Yet when the film was released and critics got a look at it, they were overwhelmed by Stone's work. Instead of an all out diatribe, he had created a study of a man who felt unworthy of the highest office in the land, even though he spent much of his life trying to get there, and was for most of his presidency a very good Commander-in-Chief.
Stone's film portrayed Nixon warts and all, the paranoia, the vulgar language he was known to use, his mistrust of even those closest to him, his jealousy of the Kennedy clan, and the strange hold his mother had on him, even in his later years.  The film displayed a brilliant statesman who struggled with his own sense of self worth, knowing that he could never be loved as Kennedy was, yet also aware of the good he was doing.
Nixon opened relations with two communist countries, Russia and China, a huge move for him as he was a known communist hater and right hand man to no less than Senator Joseph McCarthy during the red purge of the 1950s that ruined many innocents. He would end Vietnam after having escalated a war he inherited, admitting defeat, and when the nation screamed for his impeachment just two years after being re-elected with the largest margin in the history of United States politics, he resigned in disgrace.
Yet history would be kind to Nixon. Every single U.S. president relied on the man for advice and counsel in matters of foreign affairs until his death. He became a respected elder statesman of American politics and as Henry Kissinger supposedly promised him as they prayed together in the White House, history found Nixon.
Anthony Hopkins was superb as Nixon, capturing, as Entertainment Weekly's Owen Gleiberman would astutely point out, "his tortured soul." Hopkins neither looked nor sounded like Nixon, yet within minutes we were no longer aware the man on the screen was Anthony Hopkins…we were watching Richard Nixon.
Equally good in support was the great Joan Allen as Pat, his long-suffering wife, and Paul Sorvino as Henry Kissinger. Hopkins and Allen were nominated for Academy Awards for their performances, deservedly so, and finished second in balloting for several of the critics awards in 1995.
"Nixon" was almost Shakespearean in its tragedy of a man who had it all, and through his own tragic flaws of character saw it slip away. I chose the film as the year's best in 1995, as did Entertainment Weekly and several other publications. That is a choice I stand by and believe the film will be treasured in years to come.
Coming back to "W," it doesn't seem out of bounds to say this looks like no such film.  Rather it seems to be the film we all expected "Nixon" to be. President George W. Bush, not my favorite human being, will apparently be portrayed as a fool. A hard drinking, coke snorting moron who bought his way into office on the coattails of his father, won a false election and then created a war predicated on lies.
Rolling Stone has asked that question, "Is George W. Bush the worst President in history?"  And many felt he was indeed.  On one hand Stone may portray Dub-ya as we see him, and as he in fact is, but at the end of the day, after eight years of George W. Bush…does anybody really care? I will see the film because it is my job to do so, and it is an Oliver Stone effort, which brings to it a degree of credibility.  But I cannot say I am excited about seeing it…at all.