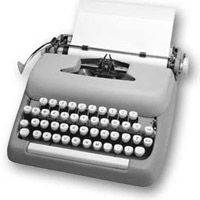 "Time is the most precious of God's gifts. It is untouchable, unseeable, unknowable…it is as light as a feather…as heavy as a stone…Time, my darling, what precious little there is, is all we have…"
I've known from Eric Roth for a few years now. I've spent some time investigating his process, picking apart his tendencies and have committed such findings, in addition to personal impressions of the man, to print. So one thing I've always taken to heart when sitting down to read one of his scripts is that, "bastardized art form" or not, he is insistent on challenging himself with his screenwriting, stretching the potential for thematic resilience and above all, treating the work like an exercise in elegant prose.
Such is the case with "The Curious Case of Benjamin Button," a 159-page adaptation of a 30-page F. Scott Fitzgerald short story. It's a rare thing to flip through the pages of a script written by someone focused on the words almost more so than the images he or she expects them to become. And as part of an art form that can be insufferable as a result, I have to say that "Benjamin Button" is something of a masterpiece.
The script begins with an aging Daisy (to be played by Cate Blanchett), recounting, via the reading of a diary by her daughter Caroline (Julia Ormond), the life and times of Benjamin Button (Brad Pitt). The love of her life, the one that got away, the one that came back and the one that will stay in her heart forever, Benjamin was born, as you certainly know, "under unusual circumstances."
Roth decides to do away with the hilarity of Fitzgerald's take on Benjamin's birth. We aren't treated to a full-grown 85-year-old man in a baby crib greeting his father with a hearty hello. Instead, he treats Benjamin's early years as something of a potential disease that makes a newborn aged beyond his or her years, so to speak. Frail skin, deformities…"His body is failing him before it has begun," a doctor conveys with flabbergasted wonder.
Benjamin's mother does not survive childbirth, while his father instinctively passes him off on a lonely Baltimore doorstep before disappearing from his life…for a time. It is there, not hours old, that Benjamin is taken in by Queenie (Taraji P. Henson) at an old-timers' home, for lack of better vernacular on my part.
It was actually a stroke of brilliance by Roth to place Benjamin in such a setting for his formative years (and he'll come back frequently throughout the tale). The writer's commentary on wisdom and its many vessels is perfectly conveyed in this environment, simultaneously providing a fair share of comedic relief here and there, most of the time via unexpected flatulence (but it works).
The narrative then takes off on the familiar journey: Benjamin Button begins to age backwards, beginning his life in what might be considered his mid-80s and steadily moving toward a mid-point of "normalcy" before sliding down the other side of inevitability. Fitzgerald's final words are not in the script, but their power is certainly evident.
They deserve their own space as they are so moving in and of themselves:
And then he remembered nothing. When he was hungry he cried — that was all. Through the noons and nights he breathed and over him there were soft mumblings and murmurings that he scarcely heard, and faintly differentiated smells, and light and darkness.

Then it was all dark, and his white crib and the dim faces that moved above him, and the warm sweet aroma of the milk, faded out altogether from his mind.
Benjamin's life is an exciting one on par with Forrest Gump's decades of adventure (though this narrative takes us from 1919 clear to the present day). Indeed, much of "Button" reads like a more thematically potent version of "Gump." Daisy is there to be Jenny to Button's world-weathered soul. There are fishing boat sequences that make me wonder if the writer has a particular affinity for the sea (as well as a tug boat segment that puts Benjamin in colorful supporting company).
One of the most interesting sequences happens when Benjamin meets Elizabeth Abbot (Tilda Swinton), a restless and disenchanted woman changed somewhat as a result of their affair in an aged Boston hotel, but ultimately representative of the ebb and flow of time…all things, good or bad, must come to an end.
It is also a sequence that allows Roth to use Benjamin's voice over to maximum effect. The narration is never a hindrance and is always complementary to the images he chooses to describe, indeed in most cases it is difficult to imagine the images without Benjamin's accompanying insight.
Consider this aside: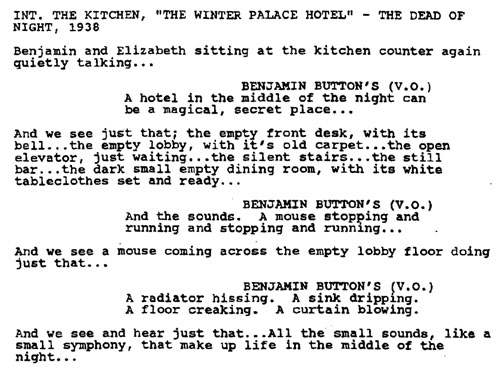 And one more, because it probably represents my favorite 27 words in the entire script:
And the script is filled with jewels like this, examples of Roth's dedication to creating an atmosphere with his words rather than just committing the visuals to paper. His juxtaposition likely provided a field day for editors Kirk Baxter and Angus Wall, while a director as visually inventive as David Fincher had to revel in the complexities of Roth's depictions.
I have no problem offering the opinion that this is probably Eric Roth's best work to date. It represents a sort of thematic maturity and absolute stranglehold on the screenwriting trade that could place it in some very distinguished company. But what's more, it seems that his vision has made it through the studio system free of the pitfalls that have accompanied some of his past efforts ("The Postman," "Munich," "Lucky You").
Robin Swicord has a "previously written by" credit on the script, so I can't be sure how much material, if any, was carried over. And if it ultimately was just a serendipitous amalgamation of their efforts, fair enough. But I can sense a lot of Roth in this thing. A lot. It is also dated November of 2002, so plenty could have changed. But I hope not.
It is a tightrope walk, regardless. The film depicted in these pages could easily slide off the rails in production and, indeed, come off ridiculous on the screen. I don't think Fincher is capable of taking it there, and he has had his own run-ins with studio sabotage in the past ("Alien 3"), so perhaps he's been diligent about cranking out his own masterpiece to do honor to Roth's.
Brad Pitt will have the role of a lifetime, enjoying the potential for, far and away, his greatest performance to date. And he really is the centerpiece of the story. The Daisy thread is solid throughout and I think Cate Blanchett will be serviceable in the part, while Taraji P. Henson will have warm scenes to work with for the most part. But this is Pitt's vehicle through and through.
And he should be thanking Roth for the package he's created. Truth be told, it's the kind of thing aspiring screenwriters should study.