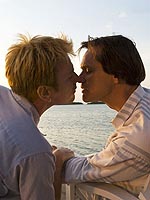 The first still for "I Love You Phillip Morris" has been released, and it's an enticing shot for the two or three people in the world who'd like to see these guys bumping uglies…
But seriously, I do think it's hilarious that this film was pitched as "'Catch Me If You Can' meets "Brokeback Mountain.'"  Gotta give Hollywood one of those recipe pitches every now and then, assure the suits that they aren't straying TOO far from the norm.
I've never read Steve McVicker's book, but it does sound interesting.  And no, it's not about a man who falls in love with Big Tobacco.
I also like Jim Carrey's choice of material lately.  As "Liar Liar"-ish as "Yes Man" sounds, it could be a solid piece of work and "Morris," of course, coming from the "Bad Santa" team, has a lot of potential.  I'm also looking forward to "The Christmas Carol," which could be dazzling.
The guy sure could use a boost after three stinkers in a row.