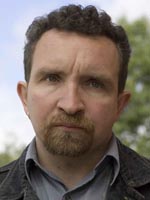 Uh-oh.
I've expressed my sentiments for this film. So has Guy. I think there's something to the "oppressive" comment because Poppy will no doubt be a character that grates on the nerves of plenty of viewers. But I found charms here and there and, with a second viewing, I think I might settle into it more.
Here's Wells:
Just got back from Mike Leigh's Happy Go Lucky, a movie about a quirky, plucky lady (Sally Hawkins) given to laying spirited, feel-good emotional fascism upon others, including the audience. If this sort of thing lights you up, you may do cartwheels. (As Patrick Goldstein did.) If you find it oppressive, as I did, you'll be in hell. And yet this is a very assured, self-aware film. Respect must be paid to Leigh, who knows his characters and their world and precisely how to make it all unfold in just the right way.
I think the real story of "Happy-Go-Lucky" will be Eddie Marsan, who is creepy but diabolically human, if you'll forgive an odd adverb choice.
The question still remains, though. How will Miramax position this? Can it be a Best Picture contender (I don't think so). Is the studio really willing to put all its eggs into "Doubt?" It's an interesting scenario this year for them, to say the least. Lots of "small," it seems.
Anyway, I don't personally think Wells was ever going to be a lover of this one, for what it's worth. Not his thing. Too big a target for him to take aim and shoot it down, etc. But it will have its followers and I think they will be avid.
UPDATE (10:45 a.m.): Well's goes a bit deeper here.