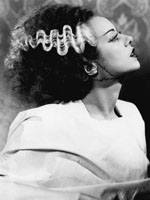 Two friends of IC, Rope of Silicon and The Movie Blog, have decided this week to chart the greatest movie sequels of all time. Obviously it's a subjective endeavor, but I thought I'd crank out my list. Pick it apart, praise it and/or add your choices in the comments below!
Before getting to the list, however, I want to note the criteria. For me, I don't think this is one of those lists where #1 is necessarily a better film than #2, etc. I think judging a list of sequels should entail what a sequel does for the film or films that preceded it and how it fits into that overall landscape.
A fantastic sequel to a terrible film might deserve more credence than a fantastic sequel to a fantastic film, but if the latter happens to add considerably to the overall palette rather than continue down already trailblazing territory, then it should be taken into serious account as well.
The 10 greatest movie sequels of all time:
10. "Indiana Jones and the Last Crusade" (Steven Spielberg, 1989)
Before Steven Spielberg and George Lucas raped my childhood earlier this year, they were separately responsible for the greatest trilogy in movie history. While my personal favorite of the set is "Temple of Doom" (a minority opinion I cherish), this late-80s denouement (well, we thought it was a denouement) had all the right ingredients for sending our valiant hero of the decade off into the sunset.
9. "Rocky II" (Sylvester Stallone, 1979)
The tagline really said it all: "The rematch of the century." Sylvester Stallone took his little hero from two years prior, which unsuspectingly took top honors at the Academy Awards, and turned him into a comeback kid with this perfectly realized follow-up. And when Balboa lays Apollo Creed out in the final moments, I defy you not to feel the surge of excitement.
8. "Aliens" (James Cameron, 1986)
To me, there have always been "Alien" people and "Aliens" people. Not that someone can like both Ridley Scott's initial effort and James Cameron's blockbuster follow-up, but speaking personally, I never quite responded to Scott's work. What Cameron did, however, was craft one of the most successful action horror thrill-rides the cinema had (or has) ever seen.
7. "The Dark Knight" (Christopher Nolan, 2008)
What more can we possibly say about this film? Christopher Nolan and brother Jonathan showed you just what "escalation" could mean, while the director filled the frame with yet another stellar ensemble and one of the year's most memorable portrayals.
6. "The Bourne Supremacy" (Paul Greengrass, 2004)
Here is one of those instances where the third installment is definitely a better film at the end of the day. However, what Paul Greengrass's work on "The Bourne Supremacy" did to a franchise in midstream spoke volumes to where it could potentially go. Doug Liman's initial installment doesn't play near as well alone, either. But in a back-to-back viewing with this visceral gem, it benefits considerably.
5. "X2" (Bryan Singer, 2003)
Still the greatest comic book film ever made (yes, even after the joygasm we all experienced this summer), Bryan Singer's work on "X2" was a brilliant amalgamation of various X-Men plotlines into a cohesive unit packed with social philosophy and subtextual brilliance. One of the top five films of 2003, it earned its place alongside the greatest of sequels with style and savvy dedication to source material.
4. "Terminator 2: Judgment Day" (James Cameron, 1991)
Still perhaps James Cameron's greatest film, this follow-up to his groundbreaking 1984 science fiction classic took notions simply bandied about in "The Terminator" and dealt with them in smart, visually stunning and action-packed ways. He spun his tiny idea about a robot sent back in time to destroy the commander of a future resistance into something so much more.
3. "Bride of Frankenstein" (James Whale, 1935)
One of the first sequels of all time remains one of the greatest. Some even place the rare designation of this "Frankenstein" sequel being a better film than the original, and I'm tempted to agree. Boris Karloff continued his landmark work as Frankenstein's monster while Elsa Lanchester offered up an equally legendary performance as the monster's mate — no small feat. But the themes also stepped it up a notch.
2. "The Godfather Part II" (Francis Ford Coppola, 1974)
For some, this is probably the obvious #1 call, but it comes up just short for me. Nothing can be written in this space that hasn't already been chewed on for 34 years, but suffice it to say Coppola's brilliant incorporation of Mario Puzo's original novel into his screenplay here made for an epic undertaking. But it doesn't best the initial installment in my book, despite the majority opinion to the contrary.
1. "French Connection II" (John Frankenheimer, 1975)
For my money, it contains Gene Hackman's greatest performance to date and is a stellar, slightly askew follow-up to William Friedkin's original groundbreaking film. An out-of-the-box choice to be sure, but it's a film that always stuck with me and became something of a personal favorite. The cold turkey sequence is one of my favorite sequences in motion picture history.
Honorable mentions: "The Bourne Ultimatum," "National Lampoon's Christmas Vacation," "Die Hard 2," "Die Hard with a Vengeance," "Ghostbusters 2," "The Good, the Bad and the Ugly," "Indiana Jones and the Temple of Doom," "Spider-Man 2," "Superman II," "Toy Story 2"
(That's right, no "Lord of the Rings," "Star Trek" or "Star Wars." Not my thing, kids.)
Have your say! What are the greatest movie sequels of all time?