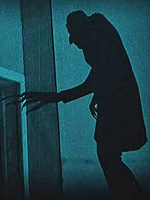 I thought I'd respond to some harking in a recent post about my tendency to lean toward domestic cinema.  The assumption seems to be that I don't care for foreign language cinema, but that couldn't be further from the truth.
One of the great joys of attending a film festival is to seek out films from other countries, to learn what one can about their cultures through their brand of cinema and to understand that art, in any form is really not so different around the globe.
I discovered foreign language film at a very young age thanks to a local rep cinema that constantly played movies like "Breathless," "Beauty and the Beast," "The Wild Child" and "Rules of the Game." The first time I went to see "Breathless" I was 13 and was thrilled by this "new" experience of reading subtitles and watching something that seemed so different to me. Of course as I matured I realized that what seemed new was the artistic vision of a different culture.
The old theater ran some films directed by the great Indian filmmaker Satyajit Ray: The Apu Trilogy. For the first time I saw what extraordinary realism could be created on the screen. I remember when "The Tin Drum" was banned in Ontario (stupid, stupid, stupid). I headed down to Buffalo to see it…loved it.
I remember the first time I saw a film directed and written by Lina Wertmuller, who was huge in the 1970s for a short time, as well as my discovery of Ingmar Bergman and Bernardo Bertolucci as well, Akira Kurosawa and Federico Fellini, their films forever seared into my mind.
Now back to the reason for posting this entry: Do I prefer North American cinema? Shoot me, but yes I do, because it is what I was raised on, what I am used to.
Random asides on some of the greats…I believe Ingmar Bergman is overrated, and though I have enjoyed a few of his films, I certainly do not believe everything he makes is a masterpiece. His work, the two exceptions on this list below, strikes me as pretentious and over-intellectualized.
Though Jean-Luc Godard did something rather extraordinary with "Breathless," I have not liked much of anything else he has directed, some of it nothing more than artistic masturbation.
I think it is somewhat sad that so few foreign language films actually make it to these shores, however.  But on with the list…
(FYI, I have included two Canadian films on the list because they were made in a language other than English, in these cases Innuit and French.)
1. "The Rules of the Game"
2. "Seven Beauties"
3. "The Tin Drum"
4. "Breathless"
5. "Beauty and the Beast" (1946)
6. "Nosferatu the Vampyre" (1979)
7. "Das Boot"
8. "City of God"
9. "Downfall"
10. "Atanarjuat: The Fast Runner"
11. "Day for Night"
12. "Ran"
13. "8 1/2"
14. "Cries and Whispers"
15. "The Bicycle Thieves"
…and I also liked "Hero," "Children of Paradise," "Open City," "The Seven Samurai," "M," "The Barbarian Invasions," "The Tin Drum," "Swept Away," "Amelie," "A Very Long Engagement," "Fanny and Alexander," "Mephisto," "Grand Illusion," "The Apu Trilogy," "Dersu Uzala," "The Motorcycle Diaires" and so many others.