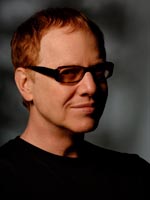 It really is a shame that Danny Elfman hasn't received the proper amount of recognition for the consistently screwed-up music branch of the Academy.  Well over two decades of quality work and three measly nods…neither of them for his top tier efforts.
This is a guy who put together probably the greatest film score of all time (and kudos to Andy Trudeau for agreeing with me).  At the very least he's carved a spot as one of the most prolific (if at times derivative) composers in the industry, instantly recognizable and always working the thematic context of the films he scores.
Anyway, I just stumbled across the news that Elfman will be scoring Joe Johnston's "The Wolf Man" (via /Film).  Personally I think it's an awesome choice and a natural fit for Elfman.  I don't know what sort of quality we can expect from the film, though.  Johnston took up the reins on the flick after Mark Romanek walked and makeup artist Rick Baker has already done his share of bitching about the on-set experience.  But I thnk we can all agree Elfman will elevate the atmosphere with his generally epic and creative work.
Before "The Wolf Man," by the way, will be  Gus Van Sant's "Milk."  Elfman was nominated in 1997 for Van Sant's "Good Will Hunting," so maybe lighting will strike again.  Maybe.