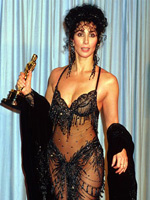 God only knows where the Telegraph managed to dig up this rumour – if it was in The Sun, I'd assume some intern made it up during a particularly slow bank-holiday interlude.
But just for fun, let's humour them and enter their world of make-believe for a moment. Okay? By that token, I'm excited to inform you that, in Christopher Nolan's next Batman installment, the role of Catwoman will be played by…
Cher.
Riiiiiight. Even with my full guard of irony intact, that's still hilarious. Don't get me wrong, I like Cher's acting work back in the day – when her face could still move and Ronald Reagan was still president. She's great in "Moonstruck," better in "Mask," better still in "Silkwood." But the thought of the 62 year-old strapping herself into the leather suit and getting frisky with Christian Bale … well, "beggars belief" is putting it lightly. According to them:
A studio executive said: "Cher is Nolan's first choice to play Catwoman. He wants to her to portray her like a vamp in her twilight years.

"The new Catwoman will be the absolute opposite of Michelle Pfeiffer and Halle Berry's purring creations."
Well, I must say I like the idea of a revisionist take on the character, particularly after Berry pretty much shredded the credibility of Catwoman's conventional incarnation. They'd need to do something radical with her along the lines of Nolan's reconceptualisation of the Joker, and the prospect of Catwoman as a surgery-paralysed Norma Desmond type sure fits with Nolan's bleaker approach. It's arguably insane enough to work … but I still don't believe a word of it. (Not least because the story takes as a given the casting of Johnny Depp as the Riddler.)
Kris' own Batman casting call a while back generated numerous suggestions for Catwoman, ranging from Milla Jovovich (Kris' choice) to Angelina Jolie (seemingly the default selection) to Christina Hendricks (my own left-field pick). All that, and not one of us picked Cher. Shame on us. I'm switching.