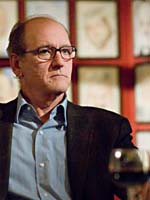 As you may have noticed, Anchor Bay Entertainment has announced that "The Visitor," my mid-year pick for best film, will be released on DVD and Blu-ray on October 7th. I've long argued that films, especially very good ones, are bolstered in the Awards race by their DVD release and this could be a starting gun for this mid-year gem.
Richard Jenkins, the lead actor in the film and its most inimitable aspect, is relatively unknown in the derby. While he's appeared in more than 50 films (recently in "Step Brothers"), Jenkins hasn't had much of a presence on the awards circuit. His only award nomination to date is an Independent Spirit Award tip for his role in "Flirting with Disaster." He's already picked up two awards for his role in "The Visitor" at Method Fest and the Moscow International Film Festival.
At its peak, "The Visitor" was running in only 270 theaters across the United States. It stayed in general release for only 13 weeks, yet it grossed almost $10 million. Compare that, for example, to "The Dark Knight," which was released in 4,366 theaters.
In what I anticipate to be a competitive Oscar season, an early fall DVD release might be the great equalizer for "The Visitor" and for Jenkins, especially. To find his way into the final five for Best Actor he's going to have to outpace Brad Pitt, Sean Penn, Jamie Foxx, Frank Langella and Leonardo DiCaprio — major names all around, with other contenders right on the outskirts.
One thing that might go to Jenkins's benefit is that he clearly gave the best first half performance. Mainstream publications like The New York Times ran feature stories about him, and, of course, the film received glowing reviews from critics. But as we all know from the dozens of independent films that receive similar recognition each year, early buzz and critical acclaim isn't enough to push a film or its lead actor out in front.  It takes passion.  And the kind that lasts.
Enter the DVD. Smartly released in October, will it give Academy members a chance to see it without having to sort through the hundreds of other DVDs that will arrive on their doorsteps in late-December and early-January? If they do, I suspect they'll have the same reaction I did: Richard Jenkins gave one of the finest performances of the year.  And that might be enough to propel him into the final five.