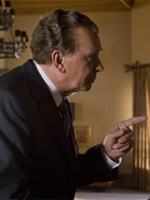 Halfway through watching the recently uncovered trailer for Ron Howard's "Frost/Nixon," I felt my stomach sinking with involuntary dread, and it took me a beat or two to figure out why.
The problem didn't appear to be the film itself; in fact, the relatively zippy trailer promises something somewhat tighter and wittier than I've been expecting from the odd (to my eyes) pairing of Ron Howard and Peter Morgan.
No, what had me grimacing in anticipation of things to come were the glimpses we are offered of Frank Langella as Tricky Dick – a showcase that, in the space of two minutes, manages to tick so many Academy boxes that Langella could probably nab a nomination for the trailer alone.
The studied gait, the mannered vocal cadences, the escalating, booming rage in his confrontations with Michael Sheen's David Frost (anyone want to lay bets on the "when the president does it, it is not illegal" clip being used in the Best Actor presentation on Oscar night?) … all the elements appear to be in place for the kind of superficially impressive inhabitation of celebrity that has lately dazzled the voters on a yearly basis.
Let it be said, I'm not dismissing Langella's performance – he may be very good indeed. (Though now that The Guardian has pointed out the vocal similarities between Langella's Nixon and Sean Connery, that discordant parallel will remain firmly lodged in my brain.) And after a long career with two recent near-misses at an Oscar nomination ("Good Night, and Good Luck" and the wonderful "Starting Out in the Evening"), I could hardly begrudge the man some recognition.
But at the same time, if someone were to issue a moratorium on rewarding biopic performances for the next decade or so, I would be right on board. For the last ten years running, at least one of the four winning performances each year has been a portrayal of a real-life figure. Daniel Day-Lewis just broke a three-year biopic run in Best Actor category; over in Best Actress, a mere two of the last nine victors played fictitious characters.
I'm not so contrary as to assert that none of them were deserving, but I don't mind admitting that I'm a little fatigued. More than that, I'm exasperated at how easily, and consistently, impressed the Academy has been by this particular trick.
Of course there are certain challenges posed by playing a real-life figure, particularly one as universally recognised and historically specific as Richard Nixon. (Get the impression wrong, after all, and people will pounce on you all the more swiftly.) But those challenges are no more significant – and are arguably less so – than those involved in creating an unfamiliar fictional character with no physical or vocal frame of reference besides the rudimentary building blocks provided by even the best of scripts (or original source material, as the case may be).
So I remain mystified that, year after year, critics and awards bodies so routinely laud mere verisimilitude in a biopic performance, without at least taking into account the infinitely larger amount of resources that actor had to draw upon than their fiction-playing competitors. To forge a sense of empathy and emotional connection between the viewer and a person who doesn't really exist is the most fundamental challenge of acting, yet I can't shake the feeling that the underlying reasoning in the mind of most people voting for Cate Blanchett's Hepburn or Forest Whitaker's Idi Amin only goes as deep as, "Oh my God, he/she looked/sounded/sang just like so-and-so!" It kind of stuns me that the Academy's acting branch, in particular, could have such a one-dimensional appreciation of their own craft.
When people consider the greatest film characters in history, there's a reason why all the contenders – from Scarlett O'Hara to Terry Malloy to Antoine Doinel to Clarice Starling – are products of a writer's imagination rather than portraits of existing figures: because the film, or at least the fictional source, is where they came to be. The viewer knows them through that medium first, hence their relationship is all the more intimate.
However finely wrought an impression the actor gives of Mahatma Gandhi or June Carter Cash or Richard Nixon, they will never own that character exclusively, and more often than not, history will reflect that distance. So when the Academy values Ben Kingsley's Gandhi above Dustin Hoffman's Dorothy Michaels, they show remarkably little foresight as to what will actually resonate on screen in years to come.
Needless to say, exceptions exist. De Niro's Jake La Motta is obviously a performance for the ages, while I honestly believe that Hilary Swank's take on Brandon Teena in "Boys Don't Cry" is the most deserving Best Actress winner of the last forty years. (I would venture that, as in both those cases, performances of figures less familiar to the general public endure better than portrayals of icons – though even there I must acknowledge that Blanchett's faintly disguised Bob Dylan was, for me, the performance of 2007.)
The problem lies in the frequency with which the Academy rewards such performances: when they so obviously can't discern between work that is genuinely inspired and interpretive (Philip Seymour Hoffman's Capote, Marion Cotillard's Piaf) and that which is merely illustrative (Jamie Foxx's Ray Charles, Helen Mirren's Queen Elizabeth II), you begin to question the point.
Of course, for all we know, the Oscar talk for Langella may come to nothing – the Best Actor field is crammed with hefty possibilities, yet more of them in biopics (Sean Penn in "Milk," Foxx again in "The Soloist"). And again, I'm not judging whether or not Langella is deserving – until I see a whole film, rather than a two-minute trailer, I can't possibly say. But as unfair and otiose as this is to say, I don't really care how good he is. There are a million flavours of characterisation – and of performance – out there; it's time for the Academy to broaden their palate.