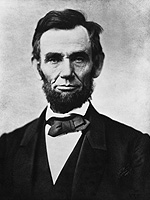 Steven Spielberg announced quite some time ago, a year and a half at least, that he planned to make a biography of President Lincoln with Liam Neeson as the 16th American President. Excited about this right away, I sat and waited, and waited, and waited, while he did the latest Indiana Jones film (no argument, it was fun) and then moved on to "The Trial of the Chicago 7," or so it seemed.
Word is that he has not withdrawn from the Lincoln project.  I am hoping he goes at it with a vengeance.  Liam Neeson was announced as Lincoln with Sally Field as his wife Mary Todd. They seem like roles of a lifetime for each.
When Spielberg throws himself into an important film, there is no stopping him, as we have seen with "Empire of the Sun," "Schindler's List," "Saving Private Ryan," "A.I.: Artificial Intelligence" and "Munich,"etc. "Lincoln" sounds to me the stuff of legend, a film that could be for the ages and might bring the man his third Oscar for directing. Hopefully this one is on the near horizon for him. The story is fascinating and deserves proper treatment. He was a great man who fought to unite the nation and treat all men as equals, with a tragic home life, and finally the victim of an assassin's bullet.
Please Mr. Spielberg, get to "Lincoln".