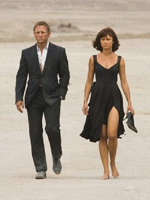 Odd to be linking to Time Out twice in one day, but I couldn't let this interview with Marc Forster, director of the keenly awaited "Quantum of Solace," go by. The interview finds Forster in London, scrabbling to complete the first edit of the latest 007 outing in a fortnight's time.
Many eyebrows were raised when it was revealed that the low-key director of "Monster's Ball," "Finding Neverland," and "The Kite Runner" was taking on this most commercial of franchises – I always thought it rather a nice fit. For me, Forster never injected much individual flair or perspective into his otherwise workmanlike 'serious' pictures; I have a feeling more of his creative personality might emerge when working against the grain of his interests. Certainly, Forster doesn't seem to be radically modifying his storytelling approach – he believes he was hired because the producers wanted a more "emotional component" to the film:
Several times (Forster) mentions what he believes will be at the heart of the new film: character. 'The great thing is that Daniel and I had an intense relationship, so between us we could always go back to the character … There's this conflict going on: he's an assassin, but he's also lost someone he loves. We're asking: where's the psychological conflict in that?
Sounds good to me. Other promising tidbits include Forster citing genius production designer Ken Adam, who worked on the first Bond films, as an influence on his creative vision, and a sneak peek at what promises to be the most exciting foe in some time for 007:
We see a flash, too, of the new Bond villain, French actor Mathieu Amalric, who plays a character with the decidedly unvillainous name of Dominic Greene. 'In the old Bond films, it was clear who were the good guys and who were the bad guys. Today, it's not so clear. I feel like Mathieu looks so sympathetic and normal, the type you can't see right away is the villain.'
Amalric can do no wrong in my book – "The Diving Bell and the Butterfly" (not to mention this year's amazing and under-the-radar "Heartbeat Detector") pretty much sealed his status as one of the greatest actors at work today. As with Forster, I've long been intrigued to see what he can do in a project so far outside his comfort zone in terms of scale and tone. If he knocks this out the park, Daniel Craig may not be the only name on everyone's lips after seeing the film.
So far, from the casting, down to Bond's bespoke Tom Ford threads, not an element seems out of place with "Quantum of Solace" – apart from maybe that appalling title. Considering the massive acclaim for "Casino Royale" in retrospect, it's all the more surprising that the film went for a duck with the Oscar voters. I wonder whether, as with "The Bourne Ultimatum" last year, familiarity with the new model might reap more rewards in the technical categories. (At the very least, the much-ballyhooed theme song could spark some life into a category that, as Kris wrote recently, could use some contenders.)
I can't wait for this.