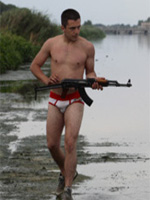 Variety carries details of the first official entry that I've heard of in the Best Foreign Language Film derby – Denmark has put forward "Worlds Apart," from director Niels Arden Oplev. The country has a pretty good track record in this category, having won back-to-back in the 80's with "Babette's Feast" and "Pelle the Conqueror," while Susanne Bier's popular "After the Wedding" nabbed a nomination two years ago.
"Worlds Apart," which has already secured US distribution, is a small-scale pic focusing on a teenage Jehovah's Witness forced to make a difficult choice when she falls in love with a non-believer. It all sounds terribly earnest, but that's right up the Academy's alley when it comes to this category. Reviewing the film at the Berlin festival back in February, Variety called it a "provocative, well-turned drama," and speculated that a US remake could be on the cards.
Apparently, the Academy has invited 96 countries to enter the race this year, with the submission deadline looming large on October 1. They should be looking to regain some credibility in this category after the embarrassing fiasco of last year's race, which saw a banner year for world cinema reduced to the most tepid slate of foreign-language nominees in recent memory, as landmark pictures like "4 Months, 3 Weeks, 2 Days," "Lust, Caution" and "Persepolis" were, one by one, either snubbed or disqualified.
Italy looks like the country to watch this year – they'll have a tough time selecting a single candidate from a renaissance year for their industry that includes the heavily buzzed "Gomorrah" and fellow Cannes champ "Il Divo," as well as four upcoming Venice titles. And France, as always, has a rich pool to choose from, with Palme d'Or winner "The Class," "I've Loved You So Long" (a potential Best Actress vehicle for Kristin Scott Thomas) and Olivier Assayas' gorgeous "Summer Hours," with Juliette Binoche, in the mix. (I assume "Tell No One," a current Stateside hit that was released over a year ago in the UK, and almost two years ago in France, is ineligible.)
Meanwhile, "A Year Ago in Winter," the new film from German Oscar favourite Caroline Link ("Beyond Silence," "Nowhere in Africa"), is set for a high-profile gala screening at Toronto next month. I'd say it looks like a safe bet, but there's no such thing with Best Foreign Language Film – the nominees may as well be drawn from a hat for all the sense they make.
There isn't enough room here for me to enumerate my problems with this category and its workings – indeed, in a just world, it wouldn't exist at all – but I hope amid the chaos they manage to pick a winner this year with at least some semblance of relevance. (Yeah, I'm looking at you, "The Counterfeiters.")