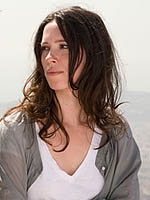 I'm not the first to grant accolades to Woody Allen for his immensely pleasurable and beautiful new film, "Vicky Cristina Barcelona." It's every bit Mr. Allen: funny, pretentious, absurd, cynical, honest, witty and fair.
We have debated in this space a few times the merits of Mr. Allen's recent work. He was hailed by critics for "Match Point," a brutal and deceptive tale of adultery and murder in London. It earned him his 14th screenplay nomination and his 21st nomination overall, which ties him with Billy Wilder if I'm remembering my Oscar history accurately.
He followed that up with "Scoop," a not-so-funny film that reminded me, unfortunately, of "Small Time Crooks," and "Cassandra's Dream," a better yet still modest film that did illustrate Colin Farrell's true potential as an actor. It didn't go anywhere with critics and was given an early 2008 release date: Siberia for the Oscar-driven. But he's rebounded, again, with his most recent film for which he smartly cast Penélope Cruz and recent Oscar winner Javier Bardem. Their efforts and talents match perfectly; they are a dynamic on-screen force.
As most people know by now, the film takes place in Barcelona and involves a circular love affair between two American girls, Vicky and Cristina, played by Rebecca Hall and Scarlett Johansson (whom also starred in "Match Point" and "Scoop") and Mr. Bardem, an artist, and Ms. Cruz, a crazy artist.
The film should be a lock for Best Original Screenplay. It's as good as "Match Point," if not better (for different reasons), and reminded me, perhaps because of the voice-over narration, of "Husbands and Wives," which also received a screenplay nod (it lost to "The Crying Game").
And the same should probably be true for Ms. Cruz, who is devastating and brilliant; she radiates on screen. She received critical acclaim in the foreign film "Volver," for which she received her first Oscar nomination, although she'd appeared in more commercial films like "Vanilla Sky," "Blow," "All the Pretty Horses" and "Sahara" (sadly) long before then.
Mr. Bardem is perhaps the most curious of the Oscar-caliber performances. The Best Supporting Actor race will be packed with popular names: Heath Ledger, Russell Crowe, Robert Downey Jr., Josh Brolin, John Malkovich, Brad Pitt, ("Burn After Reading"), Philip Seymour Hoffman…as well as potential spoilers like Michael Shannon, Kodi Smit-McPhee and Eddie Marsan.  So Bardem's chances are either none, or as good as the rest.  We'll see.
And keep your eye on Ms. Hall, who plays Vicky in the film. She's wonderful. I noticed that Mr. Lodge is keeping a watch out for her too.