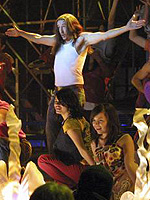 Generally around this time of year I start to compile a list of original songs for consideration in our charts…but I have to say, I'm having a hell of a time coming up with a respectable roll call.
What have we got so far this year?  Peter Gabriel's "Down to Earth" from "WALL-E" seems to be the best shot at the moment.  That is, of course, unless the Academy isn't keen on the closing credits usage (as mentioned here).
The "Sex and the City" soundtrack has quite a few original numbers, right?  (I steered clear.)  I think the Jennifer Hudson track "All Dressed Up in Love" is the smart money.
Focus Features is going to put some effort behind "Rock Me Sexy Jesus" from "Hamlet 2."  It could make its way through a thin field or on the goodwill of being a laugh riot alone.
What else?  "The Call" from "The Chronicles of Narnia: Prince Caspian?"  Wasn't there an original track from "My Blueberry Nights?"
I know for a fact that Paramount Vantage won't have anything to push for "Defiance" or "Revolutionary Road."  It's probably for the best since they were (unfairly) ignored for their efforts last year on behalf of Eddie Vedder.  I'm doing some more checking, but just based on what we've seen this year, is there ANYTHING worth considering?
Studios take note: here's your chance to dive into the fray in at least one category.  Talk about a wasteland…
Any ideas?