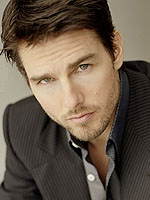 I don't know, maybe it's just me, but the en vogue nature of dog-piling Tom Cruise has started to really get under my skin.
Sure, Rachel Abramowitz and Anne Thompson are playing the pity card in their tone, but you get the pouring-salt-on-wounds vibe nonetheless.  At Variety, Thompson calls "Lions for Lambs" a flop twice (it is, but once was enough) while Abramowitz tosses around words like "crisis" regarding the actor's career at the LA Times, all in the service of what?
The real story is about Paula Wagner leaving United Artists last week, and yet the desire of entertainment journalists is to shine a light on Cruise, off in the corner, making his own moves as usual, some successful, some not, and all of them in the course of a career that is, quite frankly, just fine…if in flux.  Follow-up stories have to be about something when the quote well has dried up, I suppose.
Commentary on Cruise's situation is fair enough, but to me it seems like another reason for people to bring up the Oprah couch-jumping "meltdown" (I've seen meltdowns and that didn't come close).  It's another excuse to discuss Cruise's waning star.  For Thompson, it's an opportunity to borderline play psychiatrist:
The details on the 28th Amendment scenario reveal a good deal about what Cruise is looking for in roles. Cruise played a doctor in Eyes Wide Shut, a U.S. Senator in Lions for Lambs, and a Nazi hero in Valkyrie (a role that I hear is quite moving). Cruise also earned raves in a cameo role in Tropic Thunder as a fat balding venal producer.
I think the implication is a leader complex.  Cruise prefers to be in positions of power on screen, that right?   I'm editorializing, of course, but that's the gist I'm getting.  Underneath it all, what's wrong with shying away from the role of a special ops operative because it's treading "Mission: Impossible" territory?
Where some are finding reason to question Cruise's power within the system he's triumphed for over two decades, I tend to see an actor conscious of his image while seeking out roles that at least stand out to him, mindful of regressing into a cookie-cutter tool for studio usage.
And the proof is in Thompson's anonymous WB quote: "He'd totally score [in 'The 28th Ammendment'].  It's a fantastic hero character."  Score for WB, of course, and in vanilla fashion.  Keep the actor locked into what the establishment would prefer to see him as.
And that's what the studios are missing, it seems.  The hero Cruise of old.  Instead of flawless whitebread protagonists, he's taking on a hitman in "Collateral," a deadbeat dad in "War of the Worlds," a misguided Senator in "Lions for Lambs" and now, a morally corrupt if comedically centered studio producer in "Tropic Thunder."  In December's "Valkyrie," he'll take on the heroic part of a man involved with a plot to kill Adolf Hitler, but he's still playing a friggin' Nazi.  Claus von Stauffenberg is probably not preferable to the boy scout antics of Ethan Hunt.
Interesting progression.
Frankly, I'm sick of hearing about the couch-jumping.  I'm sick of the career-analysis by journalists with nothing better to do.  I'm irritated that a star can't find his own way in the wake of his glory years without his every move being scrutinized.  And really, who stays on top forever?  Is no one aware of the ebb and flow of a professional life?
"Now we gotta make the best of it, improvise, adapt to the environment, Darwin, shit happens, I Ching, whatever man, we gotta roll with it."
If the rest of Hollywood could adopt the same mentality, maybe we could finally get to some stories of substance.
UPDATE (9:16 a.m.): Of course the Vulture crew would see red and go after Cruise, as they have in this reaction to the "Tropic Thunder" cameo.  It's oh so posh to be uber cool and fringe, etc. (you know, Vulture's mandate) to go this route.  So…whatever.
Related Posts