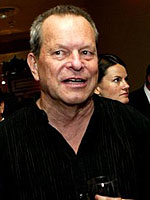 Nick Plowman points us today to a Hollywood Reporter story (and really, we needed the heads up in this case…anyone reading THR anymore?) painting director Terry Gilliam's latest film as a "tough sell."
Of course, the film in question, "The Imaginarium of Doctor Parnassus," contains Heath Ledger's swan song performance.
Here's the Reporter's Steven Zeitchik:
For U.S. distributors, the quirky Terry Gilliam film — centering on parallel worlds, a theater troupe and a devil-dealing 1,000-year-old doctor — presents a conundrum. On the one hand, it's a chance for the history-making opportunity — not to mention a marketing coup — of releasing Ledger's last movie.

But it also comes with challenges that lately have followed the stubbornly noncommercial Gilliam. The director has been behind a series of boxoffice flops and hasn't had a hit since "Twelve Monkeys" in 1995. Buyers who might otherwise be willing to shell out for a Ledger film are holding back.

"In this market, unless I have a reason to think a movie like this is going to be a slam dunk I'm not going to take a flyer on it, even with Heath Ledger," one distribution executive said. One specialty exec added few execs at his company had been tracking it.
And Plowman's sharp reply:
Whenever a Terry Gilliam film is released, it's a risky affair. They are never quite box-office or critical hits, and even the supernatural would rather he stayed away from the medium of film as well. He hasn't had a hit since 1995…
And you know what?  So be it.  Penance for Gilliam's asinine comments from last month if you ask me.  Ledger lives on in infamy with "The Dark Knight."  Given Gilliam's track record as of late, "Parnassus" could be a blight on that legacy.