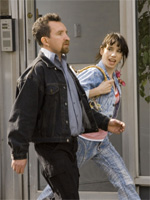 With "Happy-Go-Lucky" out on DVD today in my corner of the world, it's odd to think that America has yet to discover its charms. Early Stateside rumblings, however, suggest that's just what might happen, as Miramax's marketing campaign goes out of its way to portray Mike Leigh's unruly, bittersweet comedy as the cutest thing since newborn kittens.
Meanwhile, advance press, like this preview from the LA Times' Patrick Goldstein, plays right into their hands. Goldstein likes the film a great deal, going so far as to portray it as a lone ray of hope in a "calamitous year for specialty films." Right off the bat, he dismisses the comic competition from the indie sector ("Synecdoche, New York" is "murky," while "Hamlet 2" runs into into comic "dead ends," apparently), before singing the praises of Leigh's film:
So now for the good news. After a four-year layoff since "Vera Drake," which earned three Oscar nominations, Mike Leigh is back with "Happy-Go-Lucky," a film about an irrepressible free spirit named Poppy (played by Sally Hawkins) who manages to giddily bounce around London, full of life-affirming good cheer, but without an ounce of cloying or mawkish sentimentality. (After all, it's still a Mike Leigh movie.)
So far, so familiar. Anyone who hasn't seen the film (and indeed, many who have) must be sick to death by now of hearing umpteen variations of the term "life-affirming" in connection with it. Refreshingly, however, Goldstein sees in the film the emotional depth and complexity which is so far escaping the general blogosphere, not to mention the Miramax marketing department (though that's deliberate on their part):
It being a Leigh film, the story is chock-full of oddball characters, from a high-strung flamenco instructor to a troubled child in the kindergarten class Polly teaches. But the best part of the film is the way it so casually allows us to grasp how intertwined each relationship can be. No one is easily stereotyped. Mike Leigh's world, even a world dominated by a character who appears full of way-too-much unquenchable optimism, is always a world full of surprises.
Hear, hear. I guess I'm going to be repeating this a lot this awards season, but however much people try to paint "Happy-Go-Lucky" as this year's "Little Miss Sunshine" or "Juno," it has as much in common with them as, well, any Mike Leigh film. Yes, it's funny – very funny sometimes. But it's also a keen-eyed, frequently angry, and occasionally devastatingly sad piece of social study – one that captures the fractious knife-edge of prejudice and insularity that current British society finds itself on. (Kris once remarked to me that the film may indeed be too Anglo-specific in its concerns to woo the Academy – he may be right.)
And yet, and yet. Miramax, working with a sparser awards crop than usual, appears to be throwing more weight than one might expect behind this little film, and I'm sensing some genuine momentum building. Sally Hawkins is looking more and more solid in the Best Actress race (at this stage, it looks like she and  Anne Hathaway will be duking it out for the comedy Golden Globe), though I'm thrilled to see Goldstein noting the equally fine contribution of Eddie Marsan to the film:
A Leigh stock company regular, Marsan gives one of the year's great performances as a fuming sourpuss with the personality of an Old Testament prophet. Hands firmly clenched in a death grip on the steering wheel, he's enraged by everything, from Polly's flouncy boots ("Vanity before safety!") to what he views as the nightmare of British multiculturalism (when he spies an immigrant driver doing a poor job of negotiating a turn, he bellows: "Come on! Drive the car! You not driving a camel. We have laws in this country!").
Who knows, a few more notices like that and Marsan could be in the Best Supporting Actor frame. He presently has a spot in my predictions, as does Leigh, and the film itself for Best Picture. What started as wishful thinking on my part is growing into a more concrete (though wholly fallible) hunch. Regular readers will know that I've been yammering on about the film since my April review, and indeed, it has grown on me since. Nothing would please me more than to see "Happy-Go-Lucky" in the thick of awards season; I just hope it doesn't get pigeonholed as something it's not.