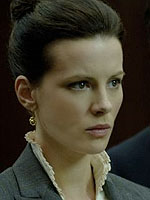 The final announcements for this year's Toronto International Film Festival will land tomorrow morning, and one of the films that will be on the list is Rod Lurie's "Nothing But the Truth."
The festival organizers have been hopeful that they could show the flick as a Gala and now they'll be doing just that. 'Truth' won't release until December, leaving quite a gap between the festival bow and the domestic unveiling. But this is a good move if early buzz is going to start building for actors Vera Farmiga, Kate Beckinsale, Alan Alda and, to a lesser extent, Matt Dillon.
I suppose now is as good a time as any to mention that I saw an early cut of the film a few weeks back. And to be sure, I think Beckinsale is going to turn a few heads with her work as a reporter caught on the fence between the security of a source and the demands of the federal government. It's a de-glam role but not in the typical sense. She is still beautiful throughout, of course, but seems capable of wearing that tired look of a downtrodden warrior.
Alan Alda is, as usual, a perfect fit as Beckinsale's attorney. He rolls the dialogue off his tongue in just the right ways and when he's off screen, I was left wanting more of him. That can go a long way in a supporting campaign. Speaking of which, Vera Farmiga is an absolute firecracker every moment she's on the screen as the Valerie Plame-like outed CIA operative Erica Van Doren.
In the film, Lurie is taking what we learned from the Plame affair and spinning it into the realm of (not-so-unthinkable) fiction. He explores the vague nature of shield laws and the perfect track record "national security" enjoys over the First Amendment in this regard, and he does so in typical Lurie fashion.
Lurie has always been a filmmaker willing to face down tough issues in his films, displaying a knack for boiling them down to a serviceable and entertaining essence. He's also proven to be more than capable of drawing stellar performances out of his actors (Jeff Bridges, Gary Oldman, Joan Allen, Samuel L. Jackson). I think we could be looking at his next dance with the awards season with this effort.
Anyway, now is not the time for an in-depth review of "Nothing But the Truth." Something along those lines will drop closer to the festival, but for now, I'd wager it is a film that will have some support. Hopefully it'll get the same from a studio with nothing else on the slate this year.
(Also playing at the fest, by the way, is the Lurie-produced "What Doesn't Kill You." That film will be looking to make a splash in an already indie-heavy TIFF slate with Mark Ruffalo and Ethan Hawke starring.)