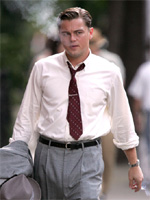 It's a slow month for news, so I understand that film bloggers' minds can wander. I sympathize with that. But even taking that into account, Jeff Wells' recent post outlining his doubts over the upcoming 'Revolutionary Road' struck me as pretty tenuous. Wells' essential argument is that the film's stumbling block looks to be the sheer brilliance of Richard Yates' source novel:
The more formidable the reputation of the book that's been made for the big screen, the greater the odds that the film will have problems of one kind or another. The motto, in short, is that it's not the beauty of the prose but the strength of the bones that counts.

Truthfully or not, fairly or unfairly, that's the general belief. And given this, it's hard not to feel a little queasy about Sam Mendes' "Revolutionary Road," the forthcoming Leonardo DiCaprio-Kate Winslet drama that's based upon Richard Yates' hugely respected novel about suburban middle-class malaise in the 1950s.
In response, let me begin by offering offer a subjective, by-no-means comprehensive selection of exceptions to Wells' stated theory – literary adaptations that are in equal proportion of greatness to their source material. "One Flew Over the Cuckoo's Nest," for one. "The Unbearable Lightness of Being" is another. "To Kill a Mockingbird" was okay, and "A Clockwork Orange" didn't totally suck either. "The Grapes of Wrath," "LA Confidential," "Tess," "Trainspotting," "Kes," "Howards End" … you get the idea.
I'm by no means arguing that Mendes' film is any more likely to be good because of its literary pedigree; I just don't think that's the relevant factor. An adaptation stands or fails by the level of insight and structural dexterity the screenwriter brings to the work at hand, whether it's Jane Austen or Peter Benchley. Certain works may appear to have more cinematic potential than others, depending on such factors as dialogue, perspective and plain old storytelling verve, but that's no rule of thumb either – otherwise DePalma's "The Bonfire of the Vanities" would be a masterpiece and last year's "Atonement" an outright trainwreck. (Remember people saying that Ian McEwan's novel was "unfilmable?")
Wells' post suggests that he hasn't read "Revolutionary Road" (he resorts to pulling quotes off the back cover to prove its greatness), so he's ill-positioned to judge what challenges Mendes and relatively green scripter Justin Haythe face in taking on the novel. As a keen admirer of the novel, and of Yates' work in general, I'd say they're pretty hefty – like that of his relative contemporary John Updike (who has never been successfully filmed), Yates' prose hinges more on the interior workings of his characters and the gradually shifting relationship between them and their environment, aspects that are difficult to visualise without resorting to the prosaic.
But there are points in their favour too: Yates' rich, witty dialogue which reaches particularly thrilling heights in the leads' frequent confrontations, his immaculate sense of locale, and a crisp, clear narrative thrust that builds to a staggering emotional climax. Given some clear thematic parallels in the material, not to mention the films' choice of leading lady, there will be inevitable comparisons made with Todd Field's 2006 adaptation of Tom Perrotta's "Little Children," a stunning film (though I know Kris disagrees) that made resourceful cinematic sense of a luminous novel with a far more unwieldy narrative, and far more opaque characters, than Yates'.
It helps that "Revolutionary Road" is, to my mind, ideally cast (I can't wait to see what exciting star-on-the-rise Michael Shannon makes of the hair-trigger character of John Givings) and has a milieu – the moneyed mid-50's East Coast, and all the brittle social trappings that go with it – that couldn't be more en vogue at the moment thanks to America's love affair with the moderately later-set "Mad Men."
I'm mildly concerned that Sam Mendes' directorial record is so patchy, but I remain a defender of his work on "American Beauty" (his heightened mise-en-scene made Alan Ball's script appear much more enigmatic than it really was). This, moreover, looks to be his first project since then that accommodates his strengths (in terms of scale, setting and actorly weight) as an ingenious stage director.
So I remain optimistic. I could be sorely disappointed, and I'm prepared for that too. But, much as I respect Jeff Wells, dismissing the project based on its literary cache displays both short sight and a short memory. As always, we can only let the film speak for itself.