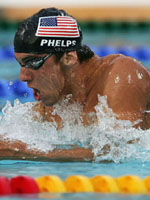 I think there are plenty of arguments against "greatest Olympian of all time." The nature of swimming events amplifies the amount of shots a competitor has at gold medals. And the striking differences between all events demands a subjectivity for each.
But the Michael Phelps story at this year's Olympic games in Beijing is one of those heart-warming things that gives you an excuse to smile in the dark recesses of the day-to-day grind. Eight gold medals. A new benchmark amid countless world records.
Bravo, sir. Bravo for the memories, however telegraphed the achievement seemed to become in recent weeks. For the U.S. or for the world itself, healthy competition and accomplishments such as these are they're own kind of healing. What a story.