It's no secret that, despite some nay-saying and general anxiety about Zack Snyder's upcoming "Watchmen," I have been on board since we first caught a glimpse of the trailer back in July. I got the sense that Snyder's visual style might be strangely suited to the material in a surprising sort of way that could make it fresh for even the die hard fans.
And indeed, when that first still was released almost a year ago, I began to nurture an affinity for the look of the production.
Anyway, I came across this G4 behind-the-scenes look at the film recently and my excitement level kicked it up a notch.
The most surprising inclusion was an interview with Oscar nominee Jackie Earle Haley, who takes on the iconic role of Rorschach (a.k.a. Walter Kovacs) in the film. We get our first look at Haley's look behind the mask and I have to say they stuck the landing. Take a look: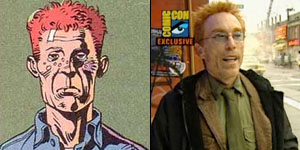 Here's what Haley had to say about Snyder's approach to the material:
It's awesome. The guys is absolutely prepared…he's previsualized the whole movie. He's got amazing storyboards. He's got wonderful depth and understanding for the characters, for the story, for the symbolism. Just everything.
I'll be honest. I haven't come across one piece of news that has turned me off of this production yet. I just hope the inevitable truncation of the graphic novel doesn't put fanboys up in arms. I've never been of the unreasonable mind that portions of the book could be abbreviated or composited.
And Snyder's already having a tough time whittling down what he did decide to include. So he's certainly not out to make it a Cliff's Notes version from the start.